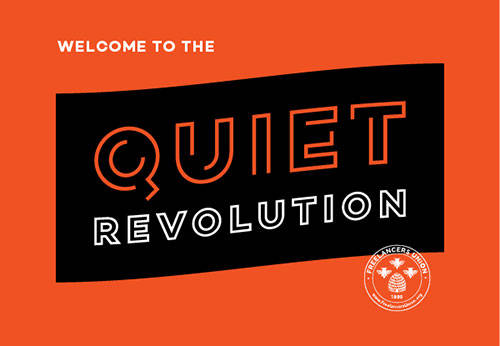 Sara Horowitz wants freelancers to join the revolution, the "Quiet Revolution," that is—a deliberate move toward a new economic future that values connection over consumption.
Horowitz's nonprofit, Freelancers Union, empowers independent workers through collaboration. In a recent blog post, she makes the case that cooperatives are serving as "guideposts" as the independent workforce embraces a more sustainable, mutually beneficial economy.
"Cooperative businesses and freelancers have a lot more in common than you might think," Horowitz says. "They're both at the vanguard of the new 'Mutualist Economy' on the horizon."
And, more and more freelancers are following the cooperative business model, joining together to create worker co-ops that allow them to retain ownership of their business but expand to include bigger jobs and more clients.
"They're creating marketing cooperatives, tech cooperatives—even babysitting cooperatives. They're joint purchasing. They're forming all kinds of formal and informal collaborations so they can do together what they couldn't do alone," Horowitz says.
An interactive map on the Freelancers Union website is plotting this new economy, pin by pin. It invites users to help "map the movement" by posting virtual pins for their favorite food co-ops, credit unions, cooperative clinics and more, giving consumers options as they seek out sustainable goods and services.
(Is your co-op on the map? If not, add it today.)
"That's what the Quiet Revolution is all about—choosing to spend your life, time and money in ways that build something better for you and the people around you," she says.
Horowitz is founder and executive director of the Freelancers Union, a 501(c)(4) nonprofit membership organization that provides close to 240,000 freelancers, consultants and other independent workers nationwide with education, resources and health insurance. Freelancers Union has also helped reverse unfair tax policies and the exclusion of independent workers from the unemployment protection system.
According to a 2006 study by the Government Accountability Office, some 42 million American workers are "independent," or freelancers, making up about one-third of the entire workforce.
"Like co-ops, freelancers have always been ahead of the curve in developing new and interesting ways to contribute to their local economies," Horowitz says. "In the new economy, freelancers and cooperatives go great together."