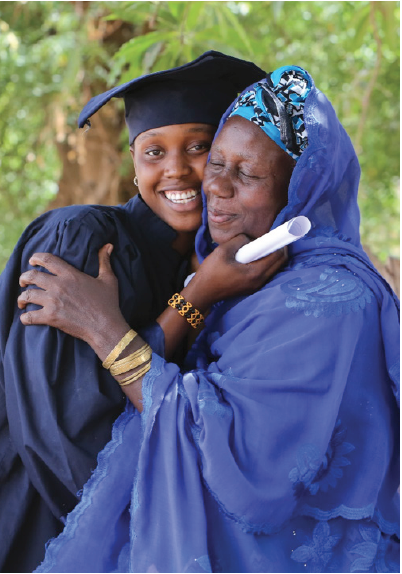 During the month of March, the U.S. and the broader global community are coming together to celebrate the achievements of women. Sunday, March 8, marked International Women's Day, highlighting the fact that "An Equal World is an Enabled World," and the U.S. will celebrate the historical contributions of women throughout the month.
As a reflection on this emphasis month, NCBA CLUSA recognizes the critical importance of addressing gender dynamics in its work to empower individuals and families to achieve resilience and economic security and exercise a better, longer and healthier quality of life.
NCBA CLUSA's approach emphasizes that its "clients are the decision-makers when it comes to solving their communities' most pressing development needs." This community-led approach highlights the importance of collective action, shared values and a focus on process. NCBA CLUSA applies this approach to its work in gender integration and the way it addresses gender in building resilience, creating economic opportunities and supporting cooperative development.
While all of our projects integrate gender equity and women's empowerment, keep reading to learn about a few of our current projects that center this work.
Global | USAID Farmer-to-Farmer
NCBA CLUSA's USAID-funded Farmer-to-Farmer program volunteers work with farmers, producer groups, rural businesses and service providers to develop the local capacity necessary to enhance food security, increase incomes, spur economic growth and address environmental and natural resource management challenges. NCBA CLUSA's Farmer-to-Farmer work falls under our Strengthening Cooperatives practice area, which is dedicated to developing strong, inclusive cooperatives and producer groups that support equal participation, leadership and agency among all women, men and youth. Projects in this area support women's entry and leadership in their local economies through cooperative development—promoting, strengthening and helping grow cooperative businesses.
Read on to learn about how strategic development is the path to sustainability and entrepreneurial growth for one women's organization in Honduras.
Guatemala | USAID Coffee Value Chains Project
NCBA CLUSA's objectives under this project are working with women and youth to improve nutrition and income generation through the creation of savings and loans groups, as well as supporting household poultry production and home gardens for nutrient-dense crops. NCBA CLUSA also leads gender and social inclusion activities for the project, including providing training and technical assistance to consortium partners and community members on equitable social and gender norms. The USAID-funded Coffee Value Chains Project falls under the Creating Economic Opportunities practice area, which addresses gaps and barriers for women in specific value chains, including gendered division of labor, equity in pay, access to financial services, access to technology or inputs and market linkages.
Read on to hear about a workshop series hosted by the project to address traditional masculinity and gender norms in the coffee value chain
Niger and Burkina Faso | USAID REGIS-ER
USAID defines resilience as the ability of people, households, communities, countries and systems to mitigate, adapt to and recover from shocks and stresses in a manner that reduces chronic vulnerability and facilitates inclusive growth. NCBA CLUSA's USAID-funded Resilience and Economic Growth in the Sahel-Enhanced Resilience (REGIS-ER) project falls under our Building Resilient Communities practice area. Projects in this portfolio focus on gender integration and women's empowerment in the areas of governance, health and nutrition, agriculture, climate change adaptation, natural resource management and disaster risk reduction. These projects also support women's land tenure, literacy and numeracy initiatives, husband's schools for improved family nutrition, equity in household decision-making, and strengthening women's groups and networks.
Read on for a mother's journey to self-reliance with the help of REGIS-ER.
Senegal | USAID Feed the Future Kawolor
NCBA CLUSA's USAID-funded Feed the Future Kawolor project in Senegal works to improve nutrition for children and mothers through a systems approach to the availability, education and sustainability of nutritious foods. Kawolor utilizes debbo galle, or mothers' groups, as a platform to introduce mothers, women of reproductive age and fathers to nutrition education, horticulture activities, savings for investment, income-generating activities and household decision-making. By addressing the needs of the entire household, Kawolor is building sustainable skills and resources, ensuring that these approaches lead to the adoption of better feeding and food preparation and, ultimately, better nutritional outcomes for children. The project contributes to the Senegalese Government's strategy to curb malnutrition, food insecurity and poverty.