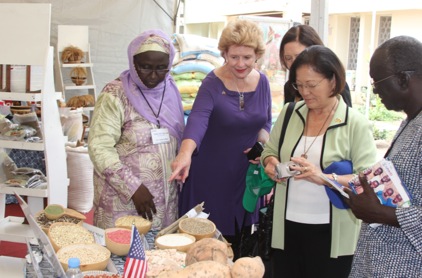 (September 19, 2014)
A display featuring NCBA CLUSA's USAID-funded food security project in Senegal, Yaajeende, drew the attention of lawmakers from the U.S. Senate's Committee on Agriculture, Nutrition and Forestry during an exhibit last week at the Senegalese Agricultural Research Institute's Horticultural Development Center in Dakar.
The all-woman delegation of senators—likely the first ever, according to the Washington Post—was in Africa for an 11-day fact-finding trip to review American agriculture and aid investments in the region, with a focus on women's economic empowerment.
A five-year Feed the Future Nutrition-led Agriculture program targeting the Matam, Kédougou, Bakel and Kolda regions of Senegal, Yaajeende is designed to reduce malnutrition by promoting access to nutrient-dense foods. A local social marketing campaign called Mangez Orange ("Eat Orange") raises awareness of the importance of Vitamin A and how eating orange-colored foods such as orange-flesh sweet potatoes, carrots, mangoes and papaya can help children avoid deficiencies.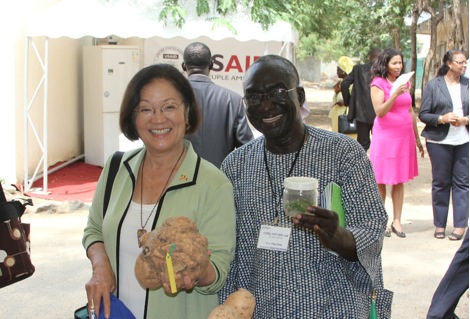 "I've never seen a sweet potato this big before," Senator Mazzie Hirono (D-Hawaii) said, brandishing a particularly large potato on display at the Yaajeende booth.
To accompany the exhibit, Yaajeende field staff distributed a 26-page brochure highlighting Nutrition-led Agriculture and NCBA CLUSA's partnerships with national institutions such as the ISRA, the Food Technology Institute, the University of Dakar and the Horticulture Development Center.
The senators—among them Committee Chair Debbie Stabenow and Committee Member Amy Klobuchar—had the opportunity to learn how Yaajeende bolsters women's resiliency to economic and climate-induced food insecurity, creates and leverages dynamic local networks to increase agricultural productivity and enlists international and national researchers and institutions to test and introduce bio-fortified foods specifically bred to maximize nutritional content.
Yaajeende Senior Advisor Papa Sene explained the project's objectives and the integral role research plays in NCBA CLUSA's food security interventions. Sene and Yaajeende Nutrition Specialist Coudy Ly Wane also described how Nutrition-led Agriculture is addressing micronutrient deficiencies in the region.
According to Yaajeende field staff, the senators asked about bio-fortification and the origin of bio-fortified seeds. They also wanted to know the adoption rate of orange-flesh sweet potatoes in the region.
The delegation included Debbie Stabenow (D-Michigan), Maria Cantwell (D-Washington), Mazie Hirono (D-Hawaii), Amy Klobuchar (D-Minnesota), Heidi Heitkamp (D-North Dakota) and Deputy Secretary of Agriculture Krysta Harden.
According to the Minneapolis Star Tribune, Klobuchar's office said she took the trip to review "the significant agriculture and aid investments we have in Africa and make sure they are effective and making progress so that countries are able to start building their own economies."