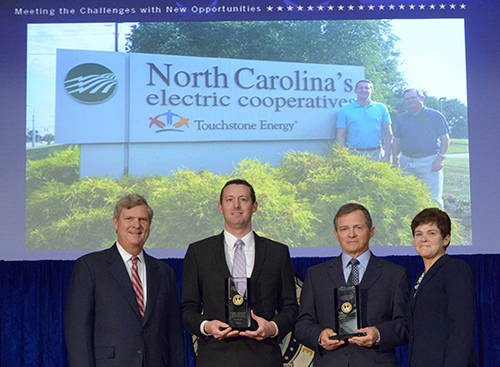 The U.S. Department of Agriculture recently bestowed its top honor for enhancing economic vitality to an electric co-op in North Carolina. The National Rural Electric Cooperative Association published this press release:
Three years ago, Eddie Miller of North Carolina Electric Membership Corp. and David Thigpen of the U.S. Department of Agriculture started making field trips to electric cooperatives to try to drum up interest in a community development program.
The drum beat loudly. Some $372 million and nearly 1,700 jobs later, Miller, Thigpen and NCEMC have been honored for partnering and leading the nation in revitalization through the USDA Rural Economic Development Loan and Grant program.
"Electric co-ops, one of their main principles is to invest in the community," said Miller, vice president for economic development at Raleigh-based NCEMC. "As the community goes, so goes the electric co-op."
Secretary of Agriculture Tom Vilsack presented the Secretary's Honor Award to Miller, representing NCEMC, and Thigpen during a November 6 ceremony at USDA headquarters in Washington, D.C.
Watch Video: NCEMC Receives the Secretary's Honor Award
The honor is the highest that the department hands out for enhancing the economic vitality and quality of life in America.
"The folks we honor today have provided exceptional service that allows us to get results and make a difference in people's lives," Vilsack said.
For the last two years, North Carolina co-ops have received more REDLG loans and grants than any state. In fact, the Tar Heel State accounted for about one-third of all nationwide grant funding in fiscal 2014, according to the USDA.
"Our boards of directors, managers and staff at the electric co-ops have really stepped up and really participated in this project very well," said Miller, who previously served as deputy director of USDA's North Carolina office for 27 years.
While the fiscal 2015 federal budget still is caught up in Capitol Hill politicking, Miller said a backlog of applications from North Carolina could consume a large part of the as-yet-undetermined allocation. "There are a lot of needs in North Carolina and many other states that will have to be funded from a very limited budget for the REDLG program," he said.
Miller and Thigpen went into the field to train co-ops in identifying eligible projects, completing applications and establishing revolving loan funds for economic development.
For example, Piedmont Electric Membership Corp., in Hillsborough, has received five grants in two years totaling $1.28 million. The money has helped to equip a school, and build and equip five rural fire departments, lowering homeowner insurance premiums because of better access to fire companies.
While NCEMC, Miller and Thigpen were cited as award recipients, Miller said the award goes far beyond them.
"I wish I could bring all the board of directors and electric co-op people here to receive this," Miller said.