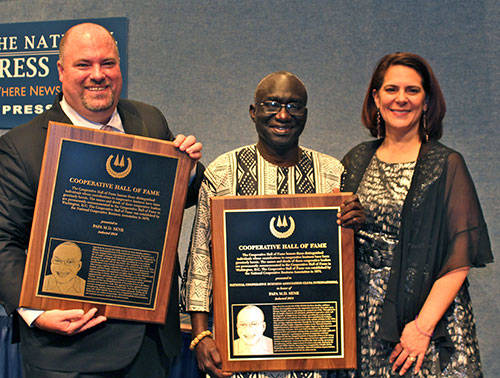 A veteran innovator whose life and work define cooperative values received the highest honor conferred by the U.S. cooperative community last week.
Papa M. D. Sene, senior technical advisor for NCBA CLUSA, was inducted to the Cooperative Hall of Fame during a May 7 ceremony at the National Press Club in Washington, D.C.
Sene's bold leadership led to the development, implementation and ongoing refinement of the successful and widely replicated "CLUSA Approach," a participatory method of cooperative international development that has empowered hundreds of thousands of people across Africa and worldwide. The approach has been applied to natural resource management, community-based health, food security, governance and the empowerment of women and young people.
Sene's 30 years at NCBA CLUSA is just the latest expression of his commitment to improving lives through cooperative development. Cooperation was an inherent part of village life in Naikhar, Senegal, where Sene was born in 1945.
Later, as a Boy Scout, Sene said a daily scouting ritual helped reiterate the importance of cooperation. Each scout carried a handkerchief tied in a knot, only untying it after he accomplished a good deed. Every morning, Sene and his fellow scouts retied their handkerchiefs as a tactile reminder of their commitment to active, productive community involvement.
Sene was among four inductees to the 2014 Cooperative Hall of Fame. He was joined by Martin Lowery, executive vice president of the National Rural Electric Cooperative Association; Harriet May, retired president and CEO of the Government Employees Credit Union; and Barry Silver, senior vice president of the National Cooperative Bank. Each inductee was acknowledged with a video of his or her life and a plaque presentation.
Lowery serves as a member of the NCBA CLUSA Board of Directors, which he previously chaired. He has devoted his career to promoting and advocating for the cooperative model of business, speaking extensively on behalf of cooperatives and helping to create the Touchstone Energy Cooperatives brand used today by most electric cooperatives.
Cooperative Hall of Fame inductees share a common belief in the cooperative model and serve as a driving force behind cooperative advancement. The Cooperative Development Foundation, the 501(c)(3) non-profit affiliate of NCBA CLUSA, administers the Cooperative Hall of Fame. Nominations are received annually from across the cooperative community, representing a spectrum of candidates from volunteers to public officials and cooperative leaders. Final selection is made by the NCBA CLUSA Board of Directors on the recommendations of a selection committee of national cooperative leaders.
The Cooperative Hall of Fame gallery is on display at NCBA CLUSA headquarters in Washington, D.C. and posted online at heroes.coop/archives.
CDF is now accepting nominations for the 2015 Cooperative Hall of Fame.
Photos of this year's event are available on the CDF Facebook page. Find videos at www.heroes.coop.