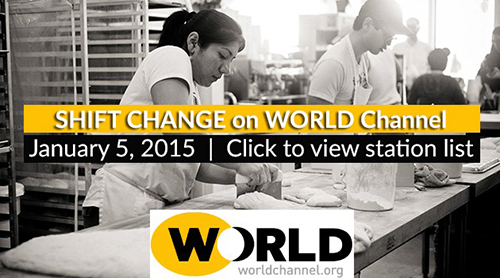 A celebrated documentary profiling worker-owned cooperatives is among 19 outstanding programs addressing the theme of inequality scheduled to air on World Channel in January.
Produced by award-winning filmmakers Melissa Young and Mark Dworkin, "Shift Change" tells the stories of employee-owned businesses that successfully compete in today's economy while providing secure, dignified jobs in democratic workplaces.
The hour-long documentary makes the case that employee ownership offers a real solution for workers and communities disillusioned by big business and growing inequality.
"Through in-depth interviews with worker-owners, attendance at co-op meetings and visits to the factory floor, "Shift Change" conveys one of the ways to reinvigorate our economy, provide a pathway to long-term stability and nurture a more egalitarian way of life," a press release from the documentary team said.
"Shift Change" was first broadcast on PBS stations beginning in July 2014. In November, the documentary topped Shareable's list of "Most Inspiring Documentaries."
World Channel is a 24/7 full-service multicast channel featuring public television's signature nonfiction documentary, science and news programming complemented by original content from emerging producers.
Click here to watch a preview of "Shift Change."