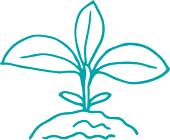 Agriculture Co-ops
Agricultural cooperatives have made an impact on food systems around the world for generations. Farmers in a co-op make decisions together and share profits among all members, rather than outside investors. Income from farmer-owned co-ops is reinvested into the business or returned to the members. In rural communities, farm co-ops are essential to support local communities and their economies.
Key Facts About Agricultural Co-ops
Every year, animal, dairy and produce farms choose to forego traditional ownership and adopt a cooperative business model. Here are a few key statistics on agricultural cooperatives:
2 million farmers are members of more than 2,100 co-ops in the U.S.
There are more than 1.2 million agricultural co-ops across the globe
Farm co-ops generate about $6.5 billion in net income each year
More than 250,000 people are employed by farmer-owned co-ops
Most of the top agricultural cooperatives are based in the Midwest, especially Iowa and Minnesota
Examples: Florida's Natural, Land O'Lakes, Ocean Spray, Blue Diamond, Organic Valley
How Farm Co-ops Work
Agricultural co-ops have existed for as long as people have been farming. Early farmers needed to secure land and supplies to start their business. In a cooperative, members would pool their financial resources and expertise to support each other's farms. Today, as more independent farms function collectively, they can achieve significant long-term success.
A farm cooperative involves a network of member farmers who reap many benefits of doing business as a unit. Individual farms work together to buy necessary supplies and services, as well as distribute, market and sell their products. Farmers save costs and access goods and services otherwise unavailable to them.
In a farmer-owned co-op, like-minded food producers help build a better local economy in the communities they serve.
Co-op Associations in Agriculture
Many organizations help advance America's farmers and support cooperative business models in agriculture:
NCBA CLUSA Advocates for Agriculture Co-ops
At NCBA CLUSA, we envision a better world through cooperative enterprise. As the largest cooperative business association in the world, we advocate for communities across the globe. We believe in advancing and defending the cooperative business model so more people and communities can prosper.
NCBA CLUSA partners with co-ops in the U.S. and internationally. In 2017, we worked with more than 400,000 farmers around the world to help increase yields and access global markets.
As a member of NCBA CLUSA, your organization will join our initiatives to promote advocacy, education and opportunity in the entire cooperative movement.
Become a member today and help us build a more inclusive global economy. Have a question or want to learn more? Contact us online.