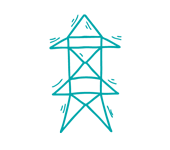 Utility Co-ops
Utility and energy co-ops benefit local communities through cooperative enterprise. Utility service cooperatives are owned and governed by the customers they serve, particularly in rural communities that investor-owned utility companies have neglected. In a utility co-op, a community's power is in the hands of its residents.
Utility cooperatives manage public services such as electricity, water and telecommunications. Each member has a voice in the governance of the co-op and delivery of its services. As shareholders, customers benefit from the co-op's profits, which are either reinvested in the organization or distributed to members as dividends.
Key Facts About Utility Co-ops
Millions of Americans enjoy the safe and affordable utility services that energy cooperatives provide. Here are a few facts about the impact of utility co-ops:
Electric co-ops account for more than 33% of the U.S. electric utility industry
The National Electric Cooperative Association serves more than 42 million customers across 47 states
Over 18 million homes, businesses and schools are powered by energy co-ops
There are about 260 telephone co-ops in the U.S. with total annual revenues of $3.9 billion
One example of a utility co-op is the National Electric Cooperative Association.
What Is a Utility Cooperative?
In the 1930s, 90% of U.S. citizens living in cities had electricity, while 90% of rural homes did not. Utility services co-ops were first formed by residents of rural communities where power companies refused to provide service.
Today, energy and utility cooperatives serve their communities' need for reliable and affordable energy, water and other public utilities. Members exercise their vote by participating in the policy-making process and electing board members.
Utility co-ops focus on serving their member-customers and the community, not making a profit to satisfy investors. Many cooperatives partner with local organizations to support small businesses and create new jobs. Energy cooperatives empower residents to come together and create a more sustainable way to power their community.
Co-op Associations for Utility Services
Cooperatives have a positive, lasting impact on a community's societal and economic growth. These organizations work to strengthen co-ops in the U.S. and internationally:
We Defend Cooperative Enterprise
At NCBA CLUSA, we develop and protect the cooperative business model in communities across the globe.
Currently, our team works in 20 countries across Africa, Latin America and Southeast Asia to form innovative cooperative structures and build resilient communities. At the federal level, we advocate in Washington, D.C., to provide greater visibility into the economic impact of cooperative enterprise.
Our members help us build a better world through education, representation and advocacy. Become a member today and join our ongoing work to advance cooperative businesses.
Want to learn more about NCBA CLUSA? Contact us today.