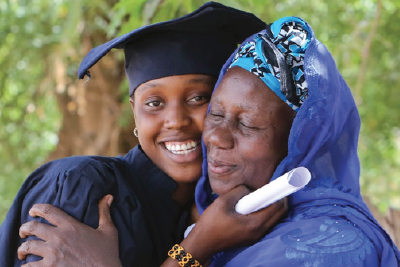 Positive Youth Development
Our Approach
NCBA CLUSA's international work fosters healthy, productive and engaged youth through a positive youth development approach that builds youth assets, agency, contribution, engagement, and enabling environments. NCBA CLUSA primarily defines youth as aged 15 to 35, although we include an expanded definition to include children 10-14 for certain programs.
Our expertise in entrepreneurship and enterprise development, improving livelihoods, agricultural value chains, access to finance, and cooperative development is applied with a youth lens to transform youth's lives. We create economic opportunities for youth and strengthen communities' resilience. In our current work, we promote:
Youth leadership and engagement in civil society and local governance
Youth employment and income generation
Youth participation in cooperatives
Our community-led development approach engages youth, their families, and their communities by creating a positive environment in which youth can thrive. Our programs empower youth and build their agency by providing leadership training and encouraging participation in local governance and community organizations such as cooperatives, associations, and producer organizations (POs).
NCBA CLUSA prepares youth for work and self-employment by building life and entrepreneurship skills through training and hands-on learning. We strengthen youth economic opportunities through financial literacy education, training for youth to establish their own savings and credit associations and cooperatives, and by enabling youth participation along value chains.