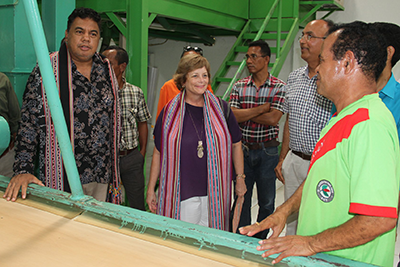 As activities wind down for NCBA CLUSA's U.S. Department of Agriculture (USDA)-funded Agribusiness Development Project in East Timor, U.S. Government officials celebrated the end of the project as a milestone in the coffee industry. Partnering with Cooperativa Café Timor (CCT) for over 20 years, NCBA CLUSA will officially close the project in June 2019. U.S. Government officials celebrated the end of activities in March. We will continue to work with CCT in partnership with the New Zealand Agency for International Development (NZAID) through 2020.
The announcement from USAID follows:

It would have been difficult to tell during the days of Indonesian rule in Timor-Leste that someday the coffee sector might be an example of how an enterprise­–or a country–can move along its journey to self-reliance. But on March 19, Timor-Leste and the United States marked an important milestone after 20-plus years, as the last U.S. coffee support project ended.
U.S. representatives marked the end of the U.S. Department of Agriculture's Agribusiness Development Project, which supported Cooperativa Café Timor (CCT) and was implemented by the National Cooperative Business Association CLUSA International. U.S. Ambassador Kathleen M. Fitzpatrick and USAID Mission Director Diana B. Putman joined CCT, USDA staff from Jakarta and Washington and the Timor-Leste Minister of Agriculture and Fisheries for ceremonies, which included visits by some to two farms in Aileu Municipality growing coffee, cloves, vanilla and black pepper. The dignitaries planted vanilla and clove seedlings while out in the field.
USAID launched the coffee sector, now Timor-Leste's second largest export behind oil, more than 20 years ago by convincing the Indonesian government to loosen controls over Timor-Leste's tiny coffee industry. Since then, USAID and the USDA have invested more than $50 million to develop the industry.
The USDA project provided seedlings and training to farmers in the production of cloves, vanilla, cocoa, pepper, coffee, moringa and cassava in the Timor-Leste municipalities of Aileu, Baucau, Lautem and Viqueque. Dutch brewer Heineken, which has a brewery in Timor-Leste, recently launched a cassava-based beer with CCT-sourced cassava.
"Through U.S. assistance CCT has shown how an enterprise–or a country–moves toward self-reliance. The urgent need for agricultural development provided the commitment and U.S. assistance helped develop the capacity so ably demonstrated through the years by CCT's continued progress," Putman said.