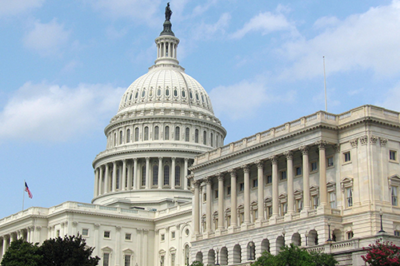 NCBA CLUSA had the opportunity to update the CooperationWorks! organization on NCBA CLUSA's advocacy work thus far in 2019 and what we're looking forward to this year. CooperationWorks!  is a network of cooperative development centers across the nation, most of whom are also members of NCBA CLUSA.
In the presentation, we highlighted the work we are doing at the federal level to build upon the successes of the 115th Congress. That includes reforms and reauthorizations in the 2018 Farm Bill, including the U.S. Department of Agriculture's Rural Cooperative Development Grant and Foreign Assistance programs like Farmer-to-Farmer.
In addition, NCBA CLUSA has taken a leading role in the Small Business Administration's implementation of the Main Street Employee Ownership Act. This law requires SBA to consider alternatives to a personal guarantee requirement when lending to cooperative businesses to startup, innovate, or expand their businesses. NCBA CLUSA has taken part in two listening sessions this year.
NCBA CLUSA is also leading the funding fight for the USDA's Rural Cooperative Development Grant (RCDG) program. Unfortunately, the Administration's Fiscal Year 2020 budget sought to zero out this program, despite the demonstrably positive economic impact it has across rural America to preserve and create jobs. However, as a result of NCBA CLUSA's advocacy and the support of CW! members, a letter supporting an increased funding level was sent to Senate Appropriators. The letter was led by U.S. Sen. Tina Smith (D-MN) and had the support of seven other senators.
Finally, NCBA CLUSA also leads two stakeholder events: the cooperative tax policy roundtable and the Interagency Working Group on Cooperative Development. At the cooperative tax policy roundtable, we were joined by a staff member of Sen. Pat Roberts (R-KS), Chairman of the Senate Committee on Agriculture. The first Interagency Working Group on Cooperative Development of 2019 focused on cooperative home care. At the event, we were joined by the U.S. Departments of Labor, Health and Human Services, and Housing and Urban Development, as well as cooperative stakeholders and developers.
At the state level, NCBA CLUSA has supported legislative efforts to modernize cooperative laws, protect cooperative tax status, and advocate for cooperative businesses in three states—Connecticut, Iowa and Wisconsin—and is looking forward to supporting more state efforts as the year continues.
While it's been a busy first quarter of 2019, we have a lot to look forward to, including the re-launch of the Congressional Cooperative Business Caucus in the 116th Congress. The Caucus will serve as a platform for members of the U.S. House of Representatives to promote policies that support cooperative businesses, and create opportunities for policymakers, cooperative experts and practitioners to identify emerging economic trends where cooperatives are playing a critical role, like homecare, food and grocery, and business conversions.
Additionally, NCBA CLUSA is eager to lead the remaining six of the cooperative policy roundtables across the country. The first roundtable was hosted by Keystone Development Center in Pennsylvania. The second was hosted by CoBank in Colorado. These roundtables seek to identify policies that create barriers to cooperative development as well as policies that promote cooperative businesses across all sectors. The series will culminate at this year's Co-op IMPACT Conference.
Finally, and most importantly, our discussion last week highlighted the importance of grassroots advocacy by cooperators. There are a number of ways co-op stakeholders can get involved, such as writing a letter to your elected official(s) supporting the cooperative model, building a coalition like CW! to coordinate efforts, or inviting your elected official(s) to visit your co-op so that Members of Congress and their staff can see co-op economic activity in their districts firsthand. If you want to get involved, visit www.ncbaclusa.coop/advocacy or send an email to advocacy@ncba.coop.