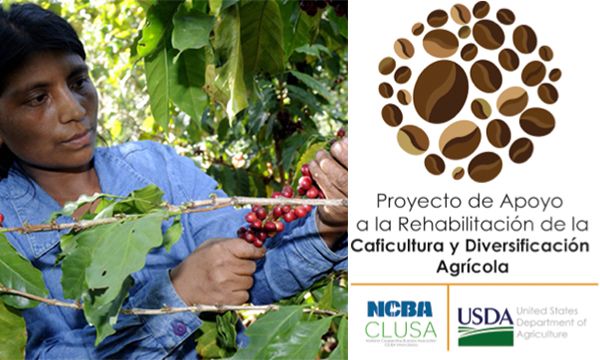 NCBA CLUSA's El Salvador-based Coffee Rehabilitation and Agricultural Diversification Project held an executive breakfast last week with representatives of the financial sector representing private banks, credit unions, financial NGOs and financial governmental institutions to present the project and explore the possibility of a new financial product focused on rehabilitating the coffee sector.
One of NCBA CLUSA's objectives under this U.S. Department of Agriculture-funded project to support coffee rehabilitation in El Salvador is to work closely with financial institutions to facilitate coffee farmer access to credit products that will help them improve their coffee farms and increase production.
Working hand-in-hand with financial institutions will support NCBA CLUSA's strategy to develop training sessions on financial planning and administration. The project will coordinate a series of workshops targeting finance managers of cooperatives and producer organizations to increase their opportunities to access financial products available to the coffee sector.
As a result of this alliance, NCBA CLUSA also expects to improve access to those products for private producers and smallholder farmers, with a particular focus on women.
"If the project offers a guarantee fund, this will help coffee producers when they apply for credit products in private banks and credit unions," said René Najarro, a member of El Salvador's Agricultural Development Bank (Banco de Fomento Agropecuario – BFA). "This fund is a great tool for us; it will allow us to give more credits and increase our services for coffee producers."
The Coffee Rehabilitation and Agricultural Diversification Project was launched in November 2014 and will work with 7,500 producers, 50 producer organizations and cooperatives, along with governmental agencies and the private sector.
NCBA CLUSA's work in Latin America began in 1963. Early programs in El Salvador helped cooperative farmers sell $34 million in agriculture commodities. The organization's "CLUSA de El Salvador" provided technical assistance and training in agriculture production, procession and marketing. NCBA CLUSA currently operates the USAID-funded Farmer to Farmer program in the country.