The 2015 Consumer Cooperative Management Association (CCMA) Conference brought 400 cooperators representing 75 food co-ops from across the nation to Boise, Idaho, June 11 – 13, for a national conversation on the future of the food co-op sector. The conference was hosted by NCBA CLUSA and the Boise Consumer Co-op.
During the June 12 opening plenary session moderated by Wheatsville Food Co-op General Manager Dan Gillotte, attendees heard from cross-sector panelists whose businesses successfully communicate the cooperative advantage to their members and customers, while impacting the communities in which they work. Jerry McGeorge, Vice President of Cooperative Affairs for Organic Valley, said the farmer-owned co-op was an early adapter of the .coop domain, giving member-owners an easy "conversation starter" when people ask, "Don't you mean .com?"
Representing True Value, Division Vice President of Retail Growth Bruce Carrozzi said knowing your audience is critical to the success of a cooperative. True Value targets "young achievers"—the "biggest and fastest-growing segment of our industry," he said. True Value is also community-oriented, even supporting local Little League games.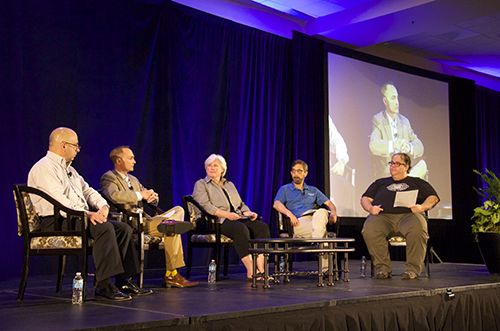 Panelist Will Hart, Executive Director of the Idaho Consumer-Owned Utilities Association, said his organization provides valuable advocacy services and links consumers to the larger National Rural Electric Cooperative Association. Panelist Debbie Wege, Community Giving Manager for BECU, said her credit union provides financial literacy and empowerment training for local communities to communicate the cooperative advantage.
Despite a marketplace increasingly flush with natural products and savvy consumers who shop around, co-ops can thrive, Mary Ellen Lynch, director of Consumer Insights & Strategic Partnerships for SPINS, said during her keynote presentation on June 13. SPINS gives natural foods a voice and space on retail shelves while measuring the sale of natural products nationwide. "Co-ops are the soul of the natural foods industry," Lynch said.
According to a poll conducted by CCMA sponsor Simply Voting during the conference, close to 70 percent of attendees who responded believe Whole Foods is the biggest threat to the consumer co-op industry. Lynch countered, suggesting that even conventional retailers such as Safeway and Kroger are quickly learning what products keep their customers coming back. Natural products, she said, are now the fastest-growing segment of the retail food industry. In 2014, natural products made up just 6 percent of total products sold but accounted for 67 percent of growth within the industry. "This is why retailers are all over natural products," she said.
Even if they stock natural products, conventional grocers can alienate their shoppers by growing too big and impersonal, Lynch said. "Part of what makes [co-ops] great and part of what's important for you to understand is that your biggest asset is your knowledge and understanding of your consumer.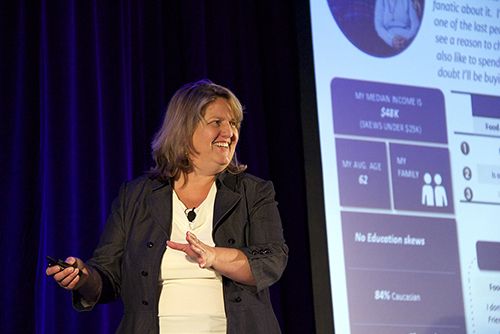 "Talk to your shoppers," she advised. "Where do they go before stopping at the co-op? Where do they go after? How do you fit into their total purchasing habits? Really understanding your consumer can help guide you in your product assortment and where you need to build out and differentiate yourselves from the general retail environment."
Over the two-day conference, attendees participated in several Community Conversations prompted by themes raised during plenary sessions. During these exercises, attendees broke into small groups to tackle tough questions and brainstorm innovative solutions to the sector's challenges. Answers to the question, "How can we use the co-op brand and identity as a strategic advantage in a competitive marketplace?" ranged from "avoid elitism" to "focus on local."
Another question, exploring how co-ops can become market leaders, inspired answers including, "Know your community" and "We are too humble. Embrace cool!" The conversations were "a chance to multiply creativity," facilitator Thane Joyal, a consultant for CDS Consulting Co-op said. The results were collected by NCBA CLUSA and are expected to guide the national conversation going forward.
While much of CCMA was devoted to encouraging conversation and communicating the tools managers and board members need to guide their co-ops to success, the conference took time to honor veterans and start-ups in the food cooperative community.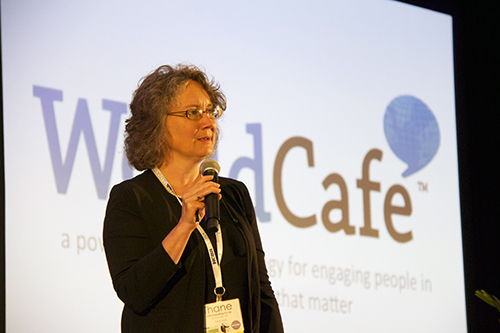 The Cooperative Excellence Award went to the People's Food Co-op in LaCrosse, Wisconsin and Rochester, Minnesota. "People's Food Co-op has always offered choice and quality at a fair price," Carol Collins, Central Corridor Advisor for National Co+op Grocers, said during her presentation of the award to Michelle Schry, General Manager of The People's Food Co-op.
Terry Appleby, General Manager of the Hanover Consumer Cooperative Society, received the Cooperative Service Award. Appleby is as well known for his dedicated leadership and exemplary service as he is for "his willingness to crawl under a customer's car to retrieve a dropped banana," Margaret Drye, President of the Hanover Consumer Cooperative Society, said during the award presentation. "Cooperation is a team sport," Appleby observed in his acceptance speech.
The Cooperative Board Service Award went to Jennifer Nalbone of the Lexington Cooperative Market. Nalbone said the award recognizes the co-op's entire team for "growing together in good governance." Durham Co+op Market received the Start-up of the Year Award from Stuart Reid, Executive Director of the Food Co-op Initiative. Durham, which opened in March 2015, is currently operating at an impressive 40 – 50 percent above its sales projections, Reid said. Durham General Manager Leila Wolfrum accepted the award on the co-op's behalf. "The future is wide open and I'm excited to be a part of it," she said.
Alex Gyori of Brattleboro Food Co-op in Brattleboro, Vermont, was also recognized for his years of service to the Howard Bowers Fund and his commitment to strengthening food cooperatives.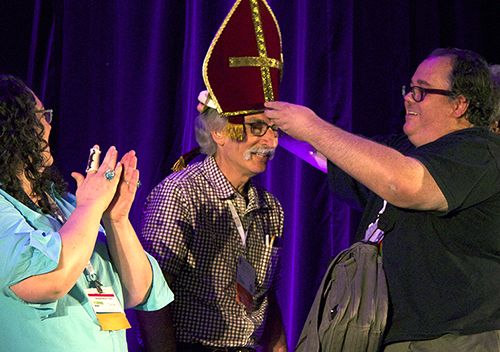 The Cooperative Development Foundation's Howard Bowers Fund supports the food co-op community by providing grants for the training and education of food co-op staff, managers and board members. The fund provided 25 scholarships to CCMA 2015. The fund's annual Silent Auction—held during the CCMA Conference—is its biggest fundraiser of the year. This year's auction raised more than $11,000.
CCMA co-host Boise Consumer Co-op showcased its innovative stores and friendly, knowledgeable staff during tours scheduled for attendees on June 11. Attendees flying in and out of Boise International Airport had the opportunity to sample some of the co-op's fresh, local picks at several kiosks throughout the airport. In January, Boise Co-op was part of the airport's overhaul of its retail space to better reflect the unique identity of Boise and showcase some of its popular local vendors.
The Boise Consumer Co-op led two breakout sessions during CCMA and hosted the Boise Block Party that wrapped up the conference. Each CCMA attendee also received a complimentary Boise Co-op-branded reusable registration bag from Royal Jute, a minority- and woman-owned business that uses sustainable, ethically-sourced, natural materials.
The 2016 Consumer Cooperative Management Association Conference will be held in Western Massachusetts, co-hosted by the members of the Neighboring Food Co-op Association, with Franklin Community Co-op and River Valley Market as primary local hosts.
NCBA CLUSA would like to recognize the members of the 2015 CCMA Conference Planning Committee for their hard work in organizing this event!
Ben Kuzma, Boise Consumer Co-op
Anya Firszt, Willy Street Co-op

Gail Graham, Mississippi Market Co-op

Dan Arnett, Central Co-op/Madison Market

Terry Bowling, National Co+op Grocers
Kay Litten, Hanover Consumer Co-op Society, Inc.

Erbin Crowell, Neighboring Food Co-op Association
Michelle Schry, People's Food Co-op, Inc.
C. E. Pugh, National Co+op Grocers
Stuart Reid, Food Co-op Initiative

Ann Fedorchak, National Cooperative Bank

Michael Novak, National Cooperative Bank
R. L. Condra, National Cooperative Bank

Dan Nordley, Cooperative Grocer Network

Mark Goehring, CDS Consulting Co-op
Pat Sterner, NCBA CLUSA
Lisa Bowman, NCBA CLUSA
Sherry Hill, NCBA CLUSA
Suzy Carter, Consultant

Cassie Durand, Cooperative Development Foundation