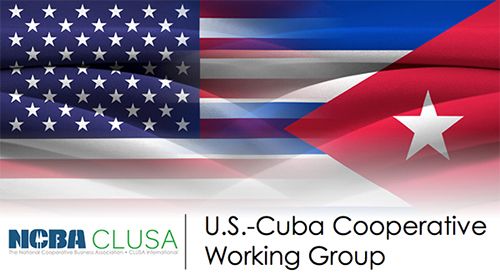 For the first time in five decades, the Cuban flag was raised over the country's embassy in Washington, D.C., this week, signaling the restoration of full diplomatic ties between the United States and Cuba, a move cooperative leaders say ushers in a new era of economic growth largely driven by Cuba's agricultural cooperatives.
"NCBA CLUSA is ready to help Cuban cooperatives grow and is planning a number of exchanges between Cuban and U.S. cooperatives in the next few months," said Mike Beall, president and CEO of NCBA CLUSA. "NCBA CLUSA continues to be the link between these two cooperative movements, having successfully hosted two exchanges in the last 12 months."
Earlier this month, NCBA CLUSA COO for International Development Amy Coughenour traveled to Cuba for an international workshop focused on sustainable local development, including the role of cooperatives. Coughenour also met with Cuban organizations interested in supporting cooperative growth and partnerships to exchange experiences with the U.S. cooperative sector.
The U.S. – Cuba Cooperative Working Group (USCCWG), led by NCBA CLUSA, is planning several technical exchanges this year, including visits this fall to the U.S. by leading national-level organizations, and a Cooperative Forum in Havana early next year.
"NCBA CLUSA will continue to lead the U.S. effort to engage cooperative businesses in Cuba as actors in building lasting economic resilience at the community level," Coughenour said.
In March, the USCCWG held a press conference at the National Press Club in Washington, D.C., during which members of the working group shared that cooperative member-owners in Cuba are gaining a newfound sense of ownership and greater economic independence.
NCBA CLUSA began laying the groundwork for engagement with Cuba's cooperative sector in July 2014, when the organization led an initial research and education trip to Cuba to gain a clearer picture of the cooperative movement there.
Cuba's approximately 5,000 cooperatives are largely found—and historically rooted—in its agriculture sector, but non-agricultural co-ops have been forming since 2013, when Cuba began shifting many of its state-owned enterprises to autonomous co-ops, members of the working group said.
More information on the U.S. – Cuba Cooperative Working Group can be found at https://ncbaclusa.coop/project/cuba-u-s-cuba-cooperative-working-group-usccwg/.