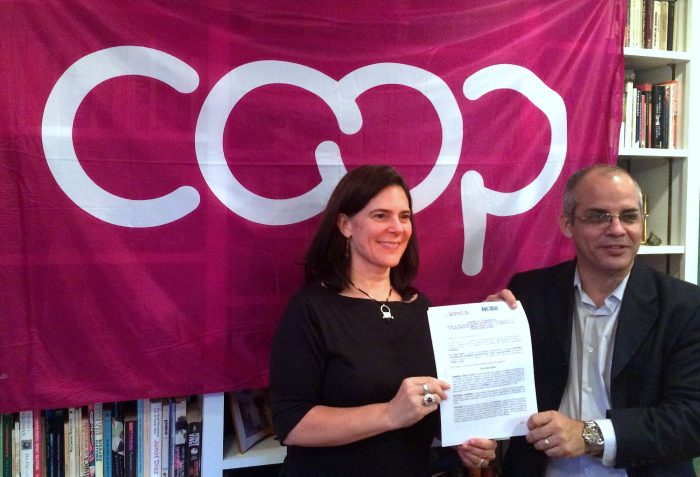 As part of its work to link and promote U.S. and Cuban cooperative businesses, NCBA CLUSA recently signed an historic agreement with SCENIUS, a Cuban non-agricultural professional services cooperative.
"This first formal agreement with a Cuban partner is an important step in bringing the U.S. and Cuban cooperative communities together," said Amy Coughenour Betancourt, Chief Operating Officer for International Programs. "SCENIUS is taking real leadership in promoting and supporting cooperatives in Cuba, and will help to support our mutual interest in fostering cooperative growth and exchanges between our two countries."
On behalf of NCBA CLUSA's U.S.-Cuba Cooperative Working Group project, Amy Coughenour Bentancourt signed the MOU with Ing. Luis Alberto Dueñas Casal, President and CEO of SCENIUS, during his trip to Washington, D.C. in late November.
As the U.S. and Cuba begin to open relations, the U.S.-Cuba Cooperative Working Group aims to foster collaboration, strengthen the cooperative movement in both countries and open formal relations with Cuban institutions that support cooperatives. This particular agreement with SCENIUS will formalize support and collaboration on workshops, cooperative events, multi-sector exchange trips and other joint activities.
"We are excited to work with NCBA CLUSA in support of the Cuban cooperative sector, and look forward to facilitating even more partnerships with U.S. cooperatives," said Dueñas Casal.
Since July 2014, the U.S.-Cuba Cooperative Working Group has conducted two exchange trips of U.S. and Cuban cooperative leaders, one to Washington, D.C. and one to Cuba, issued a report on trip findings and delivered a formal presentation to Cuban academics and leading associations. NCBA CLUSA and its Cuban counterparts have conducted planning meetings in Cuba and Washington, and NCBA CLUSA recently sent an agro-ecology specialist to an agricultural conference in Havana hosted by ANAP, the Cuban National Association of Small Producers.
As U.S.-Cuban relations continue to strengthen, NCBA CLUSA and the U.S.-Cuba Cooperative Working Group is working to bolster greater engagement through support of the cooperative sectors.
(December 22, 2015)