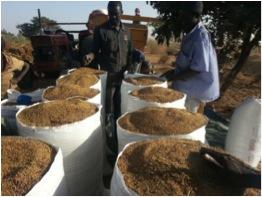 NCBA CLUSA also assists in advertising locally produced millet on the Senegalese marketplace as an alternative to imported rice and other grains.
This project will achieve two objectives:
Increase agricultural productivity of the millet value chain by developing processing systems; building capacity of producers to improve production and quality; training producers and processors in improved production techniques, post-harvest handling, marketing, and seed production; and providing grants and loans for equipment and inputs; and
Expand trade of millet by developing public-private relationships, facilitating trade relationships, researching export opportunities, building agricultural extension capacity, and promoting food safety issues and requirements.
Senegal Women's Ministry Awards Grand Innovation Prize to Millet Production and Packaging Group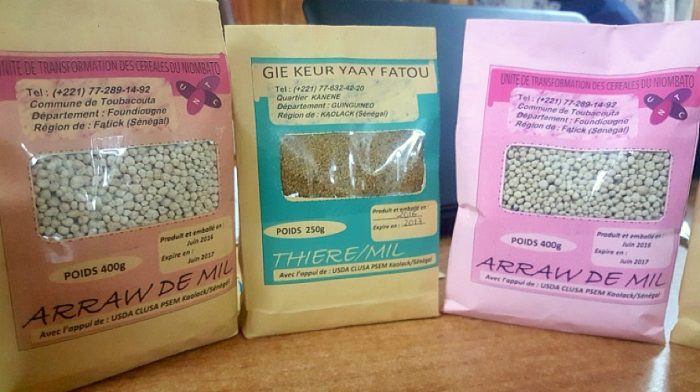 Each year, Senegal's Ministry of Women, Family and Gender organizes a prize for the most innovative projects led by women. Organized throughout Senegal's 14 regions, the 2017 first place prize for the Fatick region was awarded to the Local Grain Processors Union (UTRACEL), which, with support from the USDA funded Millet Business Services Project, is changing how millet is processed, packaged and sold in the region and around Senegal. Not only is the work changing the buying power and market for a local product, but the local packaging group is providing jobs and livelihoods for women around the region.
The group also came in 8th overall in Senegal out of hundreds of entries.
Micro and small businesses in the millet processing industry were having a hard time accessing quality packaging because of their expensive costs. To increase local marketing and cut down on packaging costs, the Millet Business Services Project, which NCBA CLUSA implements in Senegal, began training the processing centers, groups comprised usually entirely of women, in local packaging techniques.
Today, the project has supported the installation of five packaging units, including two in Dakar, the capital. Each unit employs six to seven people, mostly youth, as Packaging Service Providers. Using kraft butcher paper, which is made locally, these packaging centers not only reduce plastic waste (a key goal in Senegal's environmental policy), but also support the burgeoning local paper industry – there are 181 kraft paper processing companies supported by the project as well. The symbiotic relationship between the paper providers and packagers is helping to boost livelihoods along the millet value chain from farm to supermarket.
Professional local packing has contributed to increased sales as well as better marketing for agribusiness producer groups. Processed millet and packaged products are marketed mainly in Dakar, Thiès, Touba, as well as in the four regional intervention areas of the project and outside the zones of intervention. There are also plans to expand into international markets, including exhibitions at the Paris International Agriculture Show (SIA).
Project Gallery