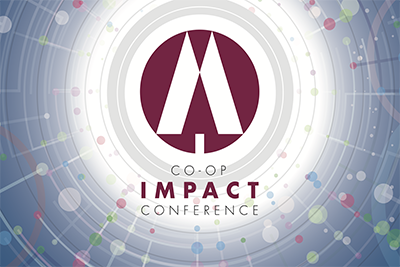 Early-bird registration is in full swing for NCBA CLUSA's 2019 Co-op IMPACT Conference, scheduled for October 2-4 at the Sheraton Pentagon City in Arlington, Virginia. Be sure to register by July 31 to save on this premier cross-sector cooperative event for co-op developers, financers, economists, government agencies, educational institutions and foundations all working to bring the co-op economy to scale.
Under the theme, "Power in Purpose: Building the Next Economy," IMPACT 2019 will amplify how cooperatives—as principled, purpose-driven businesses—are building a stable, sustainable economy.
Register now and lock in the early-bird rate of $625 for NCBA CLUSA members and $825 for non-members—a $200 savings! The Early-Bird Registration Package includes access to all conference plenary and breakout sessions, receptions and networking events, and an opportunity to register for the 2019 Co-op 5K at no additional charge.
This year's tracks include Co-ops in Communities, Co-ops in Business and Purchasing. We've also added a full day of international-themed programming on Friday, October 4. Check out the conference agenda here.
We hope you'll join us in October to help elevate and expand an environment in which people have a greater say in their futures and more equitable access to sustainable jobs and opportunities.