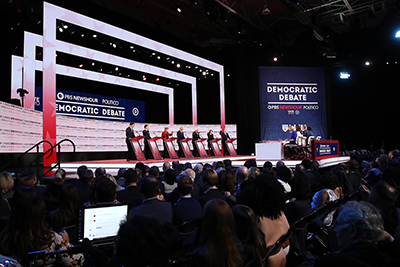 Last year, NCBA CLUSA president and CEO Doug O'Brien wrote an open letter to all candidates running for President of the United States urging them to include cooperatives in their policy proposals. Cooperatives are a bipartisan solution to many of the challenges people in our nation face—from increasing access to financial services and affordable childcare, to reducing energy burdens and addressing countless other issues that impact everyday Americans.
Following NCBA CLUSA's letter to the candidates, we saw bold plans introduced that depended heavily on cooperatives, like the proposal from Sen. Kirsten Gillibrand (D-NY). Her plan for rural America recognized that it "has long been shaped by co-ops," and recommended using the cooperative model to solve challenges including affordable childcare, home care, housing, food and broadband access.
The first-in-the-nation Iowa Caucus for the Democratic nomination is less than a month away, and while the field has somewhat narrowed, many candidates remain. Below we have outlined how the remaining Democratic candidates incorporate cooperatives into their policy proposals.
Of note, NCBA CLUSA is not endorsing any candidate of either party. As part of our mission, we work to shape policy and educate our members and the broader public on the role of cooperatives in public policy. With the Democratic primary process beginning, this article outlines policies published on the Democratic candidates' websites. The information is listed alphabetically by candidate and has been edited for brevity.
Sen. Cory Booker (D-NJ)
"Invest in cooperatives. Throughout our history, people in rural America have used co-ops to empower themselves to solve big problems. Through major boosts to technical assistance for co-op development and greater flexibility to existing federal programs so that co-ops can participate, Cory would support a new generation of rural co-ops tackling some of our biggest challenges, from helping Baby Boomers convert their businesses to worker- or consumer-owned, to combating rural 'food deserts,' to helping rural people and farmers capture the value of big data."
Sen. Amy Klobuchar (D-MN)
"Affordable, sustainable energy: Launch a grant program to help rural cooperatives develop energy storage and microgrid projects for renewable energy for generation, transmission and storage. Energy costs can be a significant burden on farms, small businesses and households in rural communities. Sen. Klobuchar has long worked to see that the Rural Energy for America Program (REAP) has the resources needed to provide grants to farms and rural businesses to install energy efficient technologies, and she will continue to push for additional resources."
Sen. Bernie Sanders (I-VT)
"Incentivize rural cooperative business models and utilities, such as rural electric cooperatives, food co-ops, and credit unions… What we know is that when employees have an ownership stake in their company they will be more productive and they will earn a better living."
"Establish a last-mile fund through the U.S. Department of Agriculture (USDA)'s Rural Utility Service to provide capital funding for broadband in remote rural households and businesses, prioritizing funding for existing co-ops and small rural utilities."
"Establish a U.S. Employee Ownership Bank to provide low-interest loans, loan guarantees, and technical assistance to workers who want to purchase their own businesses through the establishment of Employee Stock Ownership Plans (ESOPs) or Eligible Worker-Owned Cooperatives."
"Guarantee a right of first refusal to give workers the right to buy a company when it goes up for sale or is closing, to form a worker cooperative or ESOP."
"Create Worker Ownership Centers in every state and regional center in the country to educate retiring business owners and workers about the benefits of employee ownership."
Tom Steyer
"Information Networks: Protect the rights of local governments and not-for-profit organizations, including cooperatives, to build their own networks. Mobilize $135 billion in Rural Utilities Service grants and loans alongside private investment for broadband, fiber and next generation networks."
Sen. Elizabeth Warren (D-MA)
"I'll work with community organizations that have a history of working with Black farmers, like co-ops, to conduct outreach and training so Black and Brown farmers get timely information on the programs and opportunities available to them."
"Create an Office of Broadband Access in the Department of Economic Development that will manage a new $85 billion federal grant program to expand broadband. Only electricity and telephone cooperatives, non-profit organizations, tribes, cities, counties, and other state subdivisions will be eligible for grants from this fund—and all grants will be used to build the fiber infrastructure necessary to bring high-speed broadband to unserved areas, underserved areas, or areas with minimal competition."
There are eight other Democratic candidates running for president; cooperatives were not explicitly included in any of their current proposals. Those candidates, alphabetically, are: Sen. Michael Bennet (D-CO), Vice President Joe Biden, former Mayor Michael Bloomberg (D-NY), former South Bend, Indiana Mayor Pete Buttigieg, former Rep. John Delaney (D-MD), Rep. Tulsi Gabbard (D-HI), former Governor Deval Patrick (D-MA) and Andrew Yang.
While this article focuses on the highly reported Democratic primaries, NCBA CLUSA has also reached out to Republicans running for president, including the Donald J. Trump for President reelection campaign.
NCBA CLUSA will continue to work with all candidates running for president as they shape additional policy proposals and will report any new plans that incorporate cooperatives.
With a historic number of candidates seeking the presidency and a record number of plans, let us know if we have missed a policy proposal that includes co-ops. You can also send general questions to NCBA CLUSA's Government Relations Manager Kate LaTour at klatour@ncba.coop.