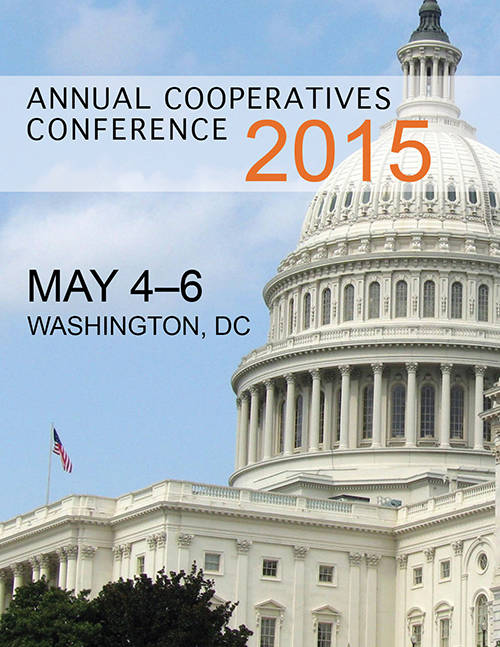 NCBA CLUSA's 2015 Annual Cooperatives Conference is less than a week away! There's still time to register and be an integral part of demonstrating the scope and value of the cooperative movement to policymakers in Washington, D.C. Click here to register.
On Monday, May 4, NCBA CLUSA will host an Advocacy Boot Camp. Led by seasoned lobbyists, this primer event will guide attendees through the dynamics of effective advocacy, messaging and current areas of opportunity. NCBA CLUSA's advocacy team will help attendees rehearse a concise, unified message—critical to presenting a united front by a group of co-op leaders representing different industry sectors across the political spectrum.
The Embassy of Senegal will host a conference welcome reception on Monday from 5 – 7 p.m. Attendees will enjoy traditional Senegalese food and drink and connect with leaders of the cooperative movement. The program will feature remarks by the Senegalese Ambassador's office and an overview of NCBA CLUSA's development work in Senegal.
Senator Al Franken (D-MN) will deliver a keynote address on May 5 during a breakfast session. Senator Franken's comments are expected to set the tone for conversations later in the day between conference attendees and federal elected officials during guided "Hike the Hill" advocacy meetings.
An estimated 75 co-op leaders are expected to take part in Tuesday's "Hike The Hill" events. NCBA CLUSA is meeting with an unprecedented 25 Senate offices on Capitol Hill—representing one quarter of the U.S. Senate.
Over lunch in the Rayburn House Office Building on May 5, Representative Jim McGovern (D-MA) will lead a presentation on U.S. – Cuba relations. McGovern is a key member of the House in terms of pushing for changes in policy toward Cuba. Several representatives from Cuba's cooperative sector will also be present.
Senator Charles Grassley (R-IA) will speak at the Co-op 100 Reception wrapping up Tuesday's activities. Sponsored by the National Cooperative Bank, this reception will recognize the top 100 cooperatives in the U.S. and highlight their economic power and reach.
On Wednesday, May 6, NCBA CLUSA's Annual Cooperatives Conference activities will transition to the National Press Club with the launch of a groundbreaking public opinion survey on co-ops—the first such survey commissioned in more than a decade. Conducted by NCBA CLUSA, the Consumer Federation of America and the National Cooperative Bank, the poll results reveal public knowledge and opinions on co-ops broken down by gender, race and economic indicators. This event is expected to draw significant media attention.
Following the survey presentation, Howard Brodsky, co-founder, chairman and co-CEO of CCA Global Partners, Inc., will unveil a branding and public relations movement designed to transform public opinion on cooperatives.
The results of the 2015 NCBA CLUSA Board of Directors election will be announced during the NCBA CLUSA Annual Business Meeting, held during lunch on on May 6.
Click here to view the complete schedule, including events hosted by the Cooperative Development Foundation the afternoon and evening of May 6.