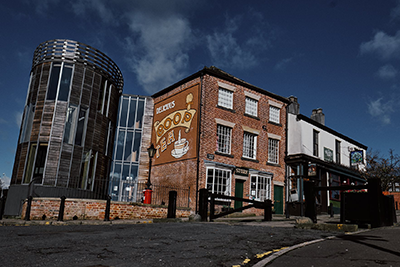 Earlier this month, I had the opportunity to visit with colleagues from Cooperatives UK, the apex cooperative association in the United Kingdom. I had an opportunity to engage and learn from leaders of their consumer co-op sector and met with the senior staff of Cooperatives UK in Manchester, UK.
I also had a chance to visit the Rochdale Pioneers Museum. Most of the readers of the Co-op Weekly are familiar (some deeply familiar) with the story of 28 weavers and others who came together in 1844 to learn from previous efforts at cooperation and mutuality. These people set down a set of rules for a new way of doing business—rules that are essentially the predecessors of what we now know as the cooperative principles.
The
Rochdale Pioneer
Community
What struck me while I was in Rochdale and Manchester was the contemporary context in which these pioneers were acting. The region was one of the most prominent industrial areas of the time. The population was experiencing major economic dislocation as the economy transitioned during industrialization. Further, the local economy was also embroiled in issues related to trade policy and immigration.
The region was a hotbed for what today we might call social entrepreneurs—people experimenting with business approaches that used mutuality to better meet their economic and social needs. The Rochdale Pioneers came together at this time to deal with the basic problem that food was too expensive. They sought a strategy of coming together to make food more affordable and to lend stability to their families. They were determined to learn from past efforts to improve the quality of life and economic position of their families. Even in 1844, these cooperators were building more inclusive businesses and communities that were more participatory, stable, and growing for the broader population.
The
Rochdale Cooperative
Model
To say the least, the people of Rochdale found itself in a Cooperative Moment in 1844—a time when people felt left out of their economy and with a need to have a greater say in their businesses and communities. The cooperative model set out in Rochdale spread across England, Europe, and the globe astonishingly quickly. When people recognized the power of this values-based business approach—one that was democratic, equitable and focused on mutual self-help—they worked not only to create businesses, but also the policy conditions that enabled their co-ops to succeed.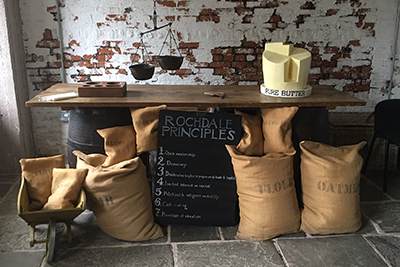 These efforts laid the foundation for our vast, global cooperative community. Today, the International Cooperative Alliance counts well over one billion people as members of cooperatives and credit unions. In the U.S., we know that there are about 65,000 establishments that are co-ops and credit unions, and the business model has gone to scale in agriculture, finance, and utilities. Fully one in three people in the U.S. are members of co-ops or credit unions. People have used the business model for generations to increase their household income, access markets, and become a vital part of the local and national economy.
Applying the
Rochdale Cooperative
Model
The success of co-ops in the U.S. and around the world does not mean our work as cooperators is over; it does mean that we have proven that the model can be successful. The need for cooperatives is as great as it ever has been. With challenges related to inequality, climate change, information technology, and the changing nature of work, growing numbers of people are looking for solutions. We know that cooperatives are a successful strategy and should be part of any plan to address these problems.
We also know that the power of the cooperative principles and the business model can be harnessed only if people choose to do the work, to learn from the past, and to apply the lessons in the contemporary context. As a cooperative community, we have an amazing history of working together to transform people's lives. The question today is whether we will choose to capture the potential of cooperatives for people in the U.S. and around the world.
Just as those 28 people in Rochdale did 175 years ago, we are in our own cooperative moment. Unlike them, we have better resources and a global community that has proven the cooperative business model. We now know that when people apply the cooperative principles to solve economic and societal challenges, they can transform sectors of the economy and empower people in the businesses they use. It is now our turn to use these principles to build a 21st Century cooperative economy—an economy that is more participatory, equitable, and where all people can benefit.
Applying just one lesson of Rochdale to our present, we can see that increasing our participation in local cooperatives and credit unions can and does result in a better society, given enough time and effort. We can and should better engage with our local cooperative businesses, develop new cooperatives to meet community needs and spread information about cooperative to those we know. In our own cooperative moment, let's emulate the Rochdale pioneers to build a 21st Century cooperative economy that will inspire, astonish and benefit future generations.
—Doug O'Brien is president and CEO of NCBA CLUSA, where he works with the cooperative community to deepen its impact on the economy.