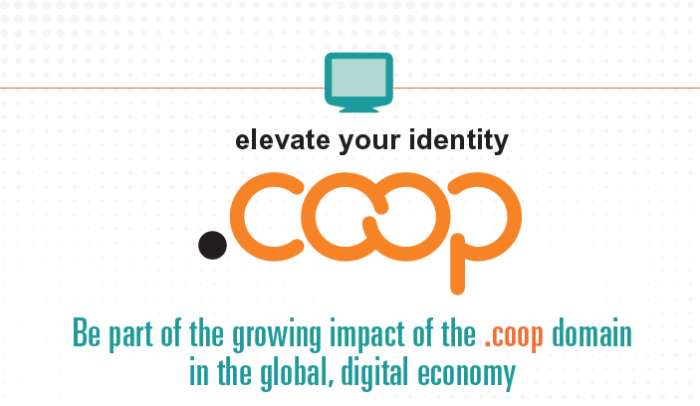 Fall 2019 – The Next Economy
Special Feature – Elevate Your Identity
Be part of the growing impact of the .coop domain in the global, digital economy
By Lance Wolak
With its joint ownership of the .coop domain registry, NCBA CLUSA enables cooperatives to elevate their identity online and to participate and thrive in the digital economy. NCBA CLUSA's support of cooperatives in the digital marketplace is part of its work to build a more inclusive economy—empowering people to have a greater say in their futures and more equitable access to economic opportunities.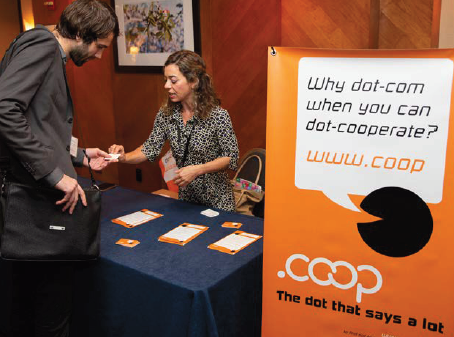 The early days of .coop domains
Launched in 2001, .coop was created as the exclusive domain for cooperatives and cooperative organizations that are guided by the 7 Cooperative Principles. DotCooperation, LLC became the manager of the .coop domain, and has defined and implemented the domain's eligibility policies and the cooperative verification process.
Early in its life, the domain registry began offering .coop domains for registration through a small collection of domain name registrars (retail organizations) and through its subsidiary retail business Domains.coop. While its closely-aligned Domains.coop registrar captured a large percentage of the early .coop domain registrations, it was clear to the domain registry DotCooperation that it needed to build a global registrar channel in order to provide local support to cooperatives that reside in all parts of the world, across many time zones, speaking many different languages, and using many different currencies.
Looking ahead with .coop
The .coop domain is now available and supported by over 45 domain name registrars, offering domain registration and traditional services like website hosting, email hosting and more, along with customer support native to all regions of the world. For the cooperative community, these registrars also offer easy-to-use website builders, e-commerce toolkits, online payment processing, secure network connections, and more.
DotCooperation continues to on-board additional registrars to bolster its global support network. As the importance of participating in the digital economy has increased, the localized, expert resources for the .coop domain are now in place to support the global cooperative community.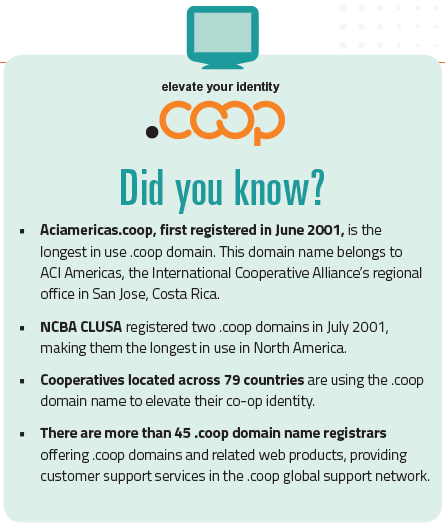 Become a verified cooperative with a .coop domain name
The .coop domain is available exclusively to organizations that are guided by 7 Cooperative Principles, as outlined by the International Cooperative Alliance. Your "verified" .coop domain reminds the world that your co-op is a bona fide member of the trusted global cooperative community.
The global network of .coop domain name registrars offer the .coop domain name at a price far lower than the alternative of using a generic .com domain name with an organization verification certificate (SSL OV). Grassroots cooperatives benefit greatly from their .coop verification status, raising public awareness of their identify. Even a newly established cooperative with a .coop domain can leap ahead with its business, elevated by its identity as a verified cooperative.
Using your .coop domain
Cooperatives regularly choose a .coop domain name to headline their primary website. This gives them the best choice of domain names to select from. A .coop domain name also immediately identifies them as a cooperative—whether their domain name is seen in advertising, business correspondence, or in web searches. Cooperatives that may have initially built their website on a generic domain name can later add a .coop domain name as an additional address for the same website.
In addition to your cooperative's primary website, there are many other uses for a .coop domain name:
Use .coop domains for your other websites, such as member newsletters, community e-magazines, event websites, a partner portal, news blog, etc.
Use a .coop domain for email addresses to immediately identify you and your colleagues as members of a cooperative in your day-to-day communications.
A new .coop domain name can be set up to forward viewers to a specific section of your existing website, as a useful shortcut.
Elevate your identity
Every .coop domain name that you register and use reinforces the public's view that verified cooperatives can be found online with this domain address. Become more visible to the public—start telling your story on a .coop website today. Visit identity.coop to learn more.
The .coop domain is managed by DotCooperation, LLC, which is jointly owned by NCBA CLUSA and the International Cooperative Alliance.