Fall 2019 – The Next Economy
Perspectives
Power in Purpose: Building the Next Economy
Even while many indicators show a growing economy, more and more people feel excluded and disconnected from their economy and society. They are looking for ways to be locally rooted and engaged. By providing people the ability to own, control and benefit from the businesses they use, cooperatives are a natural vehicle to build an economy that works for everyone. Co-ops generate more broadly shared wealth through self-help and democratic governance. And, as peoplecentered, purpose-driven businesses, they are more likely to reflect the values of their members, resulting in more equitable and sustainable businesses.
There is power in purpose-driven businesses. Our cooperative moment could not be clearer.
We begin this issue by reflecting on what the next economy could look like, and the steps we need to take to get there—education, advocacy and policy. Next, new research on ESOPs provides insights that can inform worker co-op development and bring stability to an uncertain job market. We also explore how co-ops can embrace the UN Sustainable Development Goals as a tool to demonstrate their power in purpose and learn how electric co-op technology innovations are reinventing the economy in rural America.
As your national association, we believe that there is power in our purpose; all our work is geared toward realizing the economic and societal power of an inclusive economy. We truly believe that cooperatives are the foundation on which the next economy must be built. To achieve this, NCBA CLUSA works to increase public awareness and educate grassroots and thought leaders on the success, diversity and impact of cooperatives. We advocate for co-ops to ensure the policy environment supports people who want to use co-ops to build more inclusive communities. Together we have an opportunity to empower and inspire each other through cooperative solutions.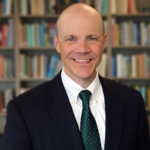 In Cooperation,
Doug O'Brien
President & CEO of NCBA CLUSA