Fall 2020 – Building Diversity, Equity and Inclusion Amid Crisis
Order Up
ChiFresh Kitchen is serving workplace equity, entrepreneurship and economic stability
By Greg Irving, with research by Camille Kerr and collaborators
In 2020, cooperatives—and particularly worker-ownership—are growing in relevance and in importance. In light of the COVID-19 pandemic, its disproportionate impacts on Black and Brown communities, and renewed calls to bring about social, racial and economic justice, the need for innovative tools to address racial inequities is more dire than ever. In this context, cooperatives are demonstrating their potential to build the social and economic power of indigenous, Latine, Black and other marginalized communities. Innovative models are proliferating across the country, and one group of worker-owners in Chicago is pioneering their own innovative approach to help spread economic security and equalize social power.
ChiFresh Kitchen, a food service business, is harnessing the cooperative model to address food insecurity, prepare healthy meals and enhance the economic security of its formerly incarcerated members. Despite opening earlier this year during a pandemic and economic crisis, they are already paying a living wage ($18/hour and a minimum of 32 hours per week) and benefits. Their model has important and novel lessons for how BIPOC communities can build power and wealth, including by showcasing a highly intentional and well-planned process conducted in no small part by the formerly incarcerated Black women—both as advisors and worker-owners—who have been the decision-makers throughout the cooperative development process.
ChiFresh's startup was characterized by in-depth considerations surrounding financial resilience, community impact and building worker wealth. Crucially, its model has been designed from the start to be replicable in urban areas across the country. In this way ChiFresh offers lessons and plans that hopefully will blaze a trail to more cooperatives advancing social justice and workplace equity, as well as a more sustainable, equitable food system.
Economic insecurity compounded
The COVID-19 pandemic has exacerbated the longstanding problems that marginalized, low-income communities have faced for generations. At the end of 2019, approximately seven out of every ten Americans still had less than $1,000 in savings.1 Roughly half, or 45 percent, had $0 in savings. Importantly, the impacts of low savings—and the closely related issue of low household wealth—do not fall on everyone evenly. White families in the U.S. had a median household wealth of $171,000 in 2016.2 This is approximately ten times that of Black families, whose median wealth stood at $17,150. Native and Latine families have comparable, if slightly higher, levels of wealth to Black families. Black and Latine families are roughly twice as likely as white families to have $0, or a negative, net worth.3 Roughly one-third of such families have no or negative net worth.
For returning citizens—especially those who are Black women—economic hardship is even more severe. Even before the pandemic, 43 percent of formerly incarcerated Black women were unemployed. That's compared to 35 percent for formerly incarcerated Black men, 23 percent for formerly incarcerated white women, and 18 percent for formerly incarcerated white men. In addition, 75 percent of formerly incarcerated women experience homelessness, and women who cannot secure safe housing often return to abusive partners or family situations for housing and financial reasons. Most formerly incarcerated women are also mothers and frequently the primary caretakers of their children. Reunification is a critical issue, made more difficult by economic insecurity.
The pandemic has constricted economic activity and thus further reduced opportunities for economic advancement. The current conditions reinforce the disparities discussed above and have fostered greater inequities in a system that reflects the longstanding exploitation of women, Black people, indigenous groups, Latine people, and other marginalized groups such as the formerly incarcerated.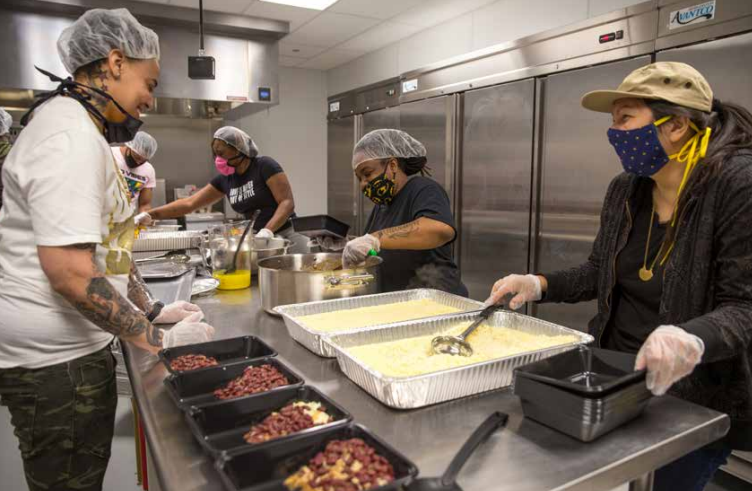 Leading with values to meet member needs Equitably solving such problems requires bottom-up and member-owner-led strategies. These methods avoid reproducing the systems and hierarchies that place certain groups of people into economic precarity and that thwart the development of the skills and capacities of, particularly, the non-white and non-wealthy. Starting last year, ChiFresh Kitchen's founders set out to create, pilot and disseminate a model for cooperative development that combines organizing principles reflective of these needs with scalable, sustainable business development practices. The success of the venture will ultimately be measured by the number of ChiFresh members who receive a living wage and are able to build wealth through the cooperative. ChiFresh's approach combined a bottomup, member-led process with expertise on entrepreneurship, market assessments and business strategy. ChiFresh's original organizers were three women of color, one of whom had been incarcerated. They started this project to create a worker cooperative owned and determined by formerly incarcerated folks, primarily Black women. They focused on this mission because they believe that—when properly resourced and supported— formerly incarcerated Black women have the experience, resilience and wisdom to build a better model for our economy. They also chose the demographic recognizing a profound financial need; the unemployment faced by formerly incarcerated Black women causes financial insecurity for themselves, their families and their communities.4
In executing their mission, the founders set requirements that they believed were necessary to fulfill their purposes. First, the business needed to sustain more than 100 workers to attain the scale necessary to significantly impact local unemployment. Second and similarly oriented, it needed to be replicable in other urban areas. Legally, the jobs have to be accessible for formerly incarcerated folks, meaning that there are no prohibitive licensing requirements that might disbar them from employment. The supported positions also needed to pay at least $15 per hour with minimal education requirements.
The founders of ChiFresh also recognized the importance of community. To foster this they wanted a centralized location where most of the work would be performed on-site. Likewise, they did not want the business to adversely affect their communities by, for example, contributing to the displacement of long-time residents. Resilience, as well as physical and economic security, were all prioritized. To avoid the common dangers that low-wage workers face, the workplace conditions needed to ensure low OSHA injury rates. To minimize risk during a recession, the founders wanted to specialize in an industry that was relatively recession resistant. Food and food service provision has historically been one of these industries.5 Although ChiFresh is a startup, the business was not built from scratch. ChiFresh's business is modeled after City Fresh Foods of Boston, Massachusetts.
Founded in 1994, City Fresh is a Black-owned social enterprise with more than 120 employees and $10 million in revenue.6 City Fresh's quarter century of experience developing recipes, navigating food sourcing and sourcing policies, and refining operational practices enabled ChiFresh to form and to operate as an informal "branch" of City Fresh. ChiFresh Kitchen founders also drew inspiration from Spain's Mondragon Corporation and lessons from initiatives like the Evergreen Cooperatives of Cleveland, Ohio and the Arizmendi Cooperatives in the Bay Area, California.
ChiFresh launched by engaging with local and state efforts to reduce food insecurity during the pandemic. The pandemic accelerated the need from the perspective of worker-owners as well, as founding members found themselves among the millions of workers laid off during March 2020. They hoped both to create some economic stability for themselves during a trying time and to bolster their community's emergency food response.
ChiFresh Kitchen's strategy for achieving these goals has been to specialize in preparing and delivering daily meals for schools, nursing homes, after-school programs and community organizations. Although there is significant local and national competition in the Chicago foodservice contracting industry, ChiFresh is positioning itself as the go-to vendor for institutions implementing the Good Food Purchasing Program (GFPP), including those interested in supporting urban agriculture and/or demonstrating their commitment to economic and racial justice.7
The program guides the food procurement of many large-scale entities and municipalities. It has been adopted by the City of Los Angeles,8 the City of New York9 and, importantly, the city of Chicago and the roughly coterminous Cook County.10 Organizations that commit to the GFPP in turn commit their considerable purchasing power to sourcing their food needs in alignment with five values: prioritizing local economies, environmental sustainability, valued workforce, animal welfare and nutrition.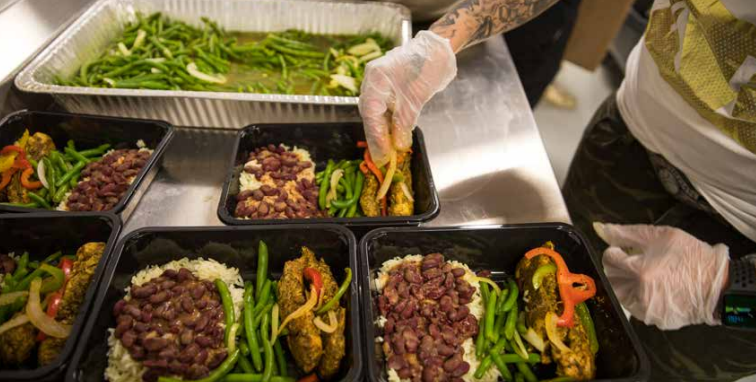 The cooperative development process In finding its niche, ChiFresh has not simply taken advantage of an opportunity. Rather, the co-founders have creatively leveraged that opportunity to serve Chicagoans healthy and quality food to spur the greater employment of returning citizens, particularly Black women. By doing this, they are pioneering a new model of cooperative development that can grow and spread the benefits of enterprises like ChiFresh across a hopefully ever-expanding range of localities. A look at their early work and the processes therein can help us to understand how this can happen.
The organizers brought in a business consultant to help identify industries that met their criteria, and decided on a worker cooperative structure to ensure the fullest share of benefits accrued to workers. Starting from the full list of North American Industry Classification System (NAICS) codes, the organizers and business consultant worked together to narrow the list to three industries that would best meet these criteria: laundry, food production and logistics.
At that point, the organizers had assembled an advisory board of entrepreneurs, community organizers and cooperative developers—the majority of whom were formerly incarcerated and all of whom are people of color. When presented with the options, the advisors removed laundry because of their personal experience in that industry. They conducted further market research on food production and logistics, highlighting specific business models within each that were market viable in Chicago. After reviewing the market research and workplace conditions of the two industries, advisors then decided on prepared meal production.
Once they had a business model, they recruited members, primarily through relationships their advisors had already formed. Five formerly incarcerated individuals showed up at the first meeting and have been with the co-op continually since. They are the founding members of ChiFresh Kitchen. Since coming on board, they have become the decision-makers for the ownership and governance structure, business model, location and more, with the support of a cooperative-focused consulting agency, Upside Down Consulting.
These member-leaders of ChiFresh moved during this early phase to gather best practices from cooperative exemplars. They wanted not merely to copy or to implement them. Their intent was to adapt them into vehicles for ensuring future successful co-ops—with similar goals—could be built on what ChiFresh would learn. They did this in five major ways.
First, they cultivated industry partnerships. Learning from the approach of Arizmendi Cooperatives in the Bay Area, which used the successful business model of the Cheese Board to spur independently-governed cooperatives, ChiFresh developed a partnership with an existing company in their industry to support startup operations. Like with Arizmendi, although ChiFresh Kitchen is completely governed by its (local) members, it has benefitted from the shared intellectual property and advice of its sister business, City Fresh Foods. In addition to the policies mentioned earlier, this intellectual property includes numerous recipes and techniques for food preparation that City Fresh developed and turned into successfully selling products.
Second, ChiFresh members have consciously chosen to work with Upside Down Consulting, the organization that supported the development process, as ongoing management consultants. Through their relationships and research, Upside Down Consulting learned that many cooperative developers unwittingly become entrepreneurs. Some co-ops post job descriptions and go through an extensive recruitment process, only to have the board come back and recommend that the original developer serve as the manager. Upside Down is deliberately stepping into the role of management consultants (pro-bono) for an indefinite period of time, bringing their entrepreneurial experience and cooperative knowledge to the business.
Third, ChiFresh has modeled itself as an "Anchor Institution 2.0." ChiFresh has pulled lessons and inspiration from the "anchor institution" approach used by the Evergreen Cooperatives in Cleveland.12 Put simply, they are using a business model that primarily contracts with large, local institutions with significant purchasing power. However, unlike the Evergreen Cooperatives, which focused primarily on hospitals and some universities as its primary anchors, ChiFresh has contacted an expanded list of anchors, including the YMCA, city and county government agencies, Meals on Wheels, and more.
Fourth, ChiFresh has strongly prioritized plans that incur only relatively modest startup costs. Many high-profile worker cooperative development projects, to date, have involved multi-million dollar startup costs—much of which is usually provided by foundations—making them difficult to replicate. The budget for ChiFresh Kitchen's startup was $150,000, at least half of which (like vehicle and equipment loans) could be financed at reasonable interest rates.
Finally, ChiFresh has incorporated pro-bono work from exterior organizations into its planning. ChiFresh has leveraged the local cooperative, food and small business ecosystem by partnering with academic institutions and nonprofits that can provide the cooperative valuable services. Students under the supervision of Professor Renee Hatcher at John Marshall Law School are providing ChiFresh with free legal advice. Students in the Solidarity Economy class taught by Professor Stacey Sutton at the University of Illinois at Chicago are conducting an anchor institution study. The Chicago Food Action and Policy Council is connecting ChiFresh with potential clients who have committed to better food purchasing practices. Lastly, the Co-op Ed Center and Cooperation for Liberation have offered to provide members free cooperative training.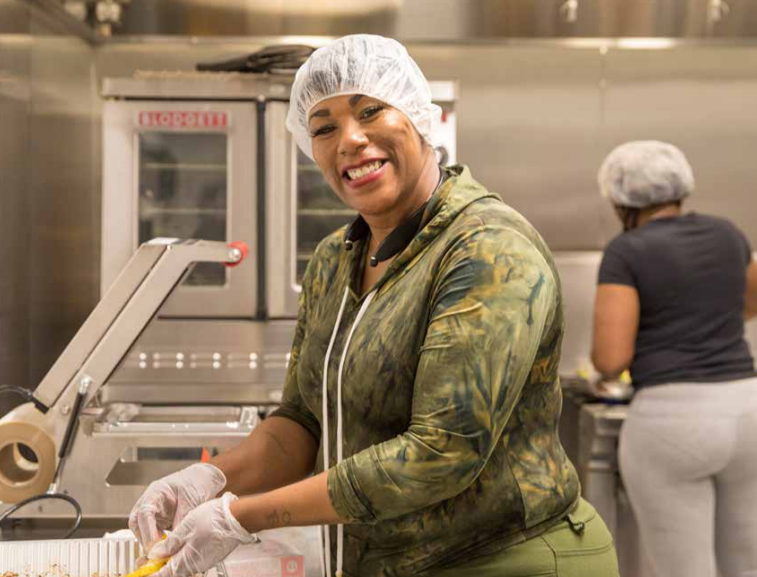 Scale and replication ChiFresh is designed to scale and to be replicated. The founders chose a more than $900 billion industry (food service contracting), due to its modest startup costs and incredible market potential.13 To accelerate the startup, they created a partnership with an existing company in their industry—City Fresh Foods. Through this partnership, they obtained access to recipes, menus, financial models, safety procedures, nutrition compliance policies and, as a result, they were prepared to contract with institutional vendors on day one. City Fresh Foods has $10 million in revenue, more than 120 employees, and is the sole contractor for the YMCA in Boston, which was one of ChiFresh's early target clients in Chicago. With their support, ChiFresh plans to reach City Fresh's capacity and number of employees within five years.
ChiFresh members are leveraging other key partnerships as well. They work closely with the Chicago Food Policy Action Council to become the go-to prepared meal vendor for anchor institutions implementing good food purchasing policies. As an increasing number of institutions become aware of the importance of supporting local, sustainable food systems, they intend to partner with other local vendors to shift purchasing from giants like Aramark and Sodexo, offering an alternative that creates quality local jobs and sources food locally.
The choice of industry to operate within also promotes replicability. Food service is a viable and thriving industry in every urban area across the U.S. Already, ChiFresh Kitchen is exploring whether its business model is a good fit for a community wealth-building initiative in Ohio. They have also been approached by cooperative developers in New York, Minnesota and California about how to replicate the ChiFresh model in those states. Over the next two years, they hope to at least have 2-3 replication projects in progress. Closer to the present, ChiFresh organizers are already supporting multiple local cooperative development projects with tools and advice on replicating their strategy. ChiFresh's work is inspiring others to embrace their bottom-up, member-centered, scale-oriented strategies. ChiFresh Kitchen and the future ChiFresh is a new venture. The advisors, developers and worker-owners have embarked on a business journey during almost unprecedented circumstances, while a pandemic rages and mass economic hardship looms. Still, their careful planning, coupled with the significant early interest in spreading their model, speaks to the promising future of the venture.
These innovators saw numerous problems in the way that local food is sourced and in an economy that unjustly excludes people from earning enough to live the dignified lives they deserve. By honing their focus to make meaningful change for formerly incarcerated Black women, they pave a way to make the economy serve more than just the wealthy, predominately white individuals already benefiting economically from society as it is currently structured. They also open up opportunities for all of us. We all benefit when we remove the barriers that prevent people from stepping into their potential to embrace—and fully express— their whole selves.
Greg Irving is a Research Assistant at NCBA CLUSA. His work focuses on ways cooperatives can create an economy that works better for all of us.
Camille Kerr is working to build a democratic economy in service to U.S. social justice movements including organizations advancing Black liberation, immigrant rights, food justice and the U.S. labor movement. She specializes in cooperative startup development, managing complex worker-centered initiatives and supporting worker co-op conversions, as well as policy advocacy and drafting. She is Founder and Principal of Upside Down Consulting, and a member of NCBA CLUSA Council of Cooperative Economists.