Fall 2020- Building Diversity, Equity and Inclusion Amid Crisis
Case Study
Cooperative Culture and Participatory Governance at OAS Staff Federal Credit Union
The Organization of American States Staff Federal Credit Union (OASFCU) is a financial cooperative headquartered in Washington, DC serving a global membership. The credit union has developed a vibrant, successful and innovative governance system while striving to uphold the spirit of the International Cooperative Alliance's (ICA) Statement on the Cooperative Identity. This approach embraces the cooperative model's basis in joint ownership and control, democracy and people centeredness. As such, OASFCU is well placed to navigate the uncertain terrain of a rapidly changing business, social and natural environment.
OASFCU arose out of the financial needs and interests of OAS employees new to the country who lacked financial history and needed affordable financial services. The credit union was established in 1962, initially serving OAS employees only before growing to serve 8-9,000 members worldwide today across more than 40 organizations. Asset holdings amount to more than USD $250 million, though financial accumulation is not the credit union's only measure of success.
Living the cooperative ethos
While the financial performance and growth of the credit union is also an important consideration, Board Chair K.C. Soares describes how OASFCU places high importance on the satisfaction of member needs and on "living our values." That is to say, the ICA cooperative principles and values underpin OASFCU's organizational culture and purpose, resulting in a commitment to member and stakeholder (particularly staff) participation and human dignity in the governance decision-making process. "We're very aware of culture here," which allows for open dialogue, debate and discussion "in a healthier and more productive and constructive manner," Soares said.
Participatory governance structures
As a financial cooperative, decision-making ultimately resides with the OASFCU's user-members. However, there also exists a practice of multiple stakeholder engagement in line with the cooperative identity and promotion of diversity and human dignity. For example, Soares explains that she is a big believer in employee ownership, participation and self-management—and, indeed, "solidarity economics" more generally such as in a Latin American context. This kind of thinking underpins the promotion of member, staff and outside stakeholder participation at OASFCU.
An intriguing aspect of this participatory governance culture is the Credit Union's Volunteer Program, for which suitable members are approached and/ or can apply to serve on a number of specialized committees that operate inter-dependently with the board. These volunteer committees have been in place for the past decade and act as "a bridge between members, the community and our FCU," Soares said.
There are generally around 50 member-volunteers involved in the organization's committee system, alongside members of staff who provide knowledgeable input and administrative support. Where necessary, external experts are also brought in to advise the committees. Education and training for prospective volunteers is provided through the Volunteer Leadership Development Program designed and delivered by Soares. And, there is also an effort to build a new generation of volunteer-member-directors through the Associate Volunteer Program. Once an associate volunteer graduates to full volunteer status, with the given rights and responsibilities, further opportunities for advancement open up to them.
Staff engagement with volunteers and serving on committees increases worker participation in governance, reducing misunderstandings in an innovative way. OASFCU CEO Carlos Calderon is supportive of the participatory cooperative governance approach:
"We can have total participation in governance, through the channels of volunteers, the elected board, and other volunteer groups that you might develop… Our engagement approach would be with members, employees and [committee] volunteers… we also keep a very close relationship with our sponsor organizations."
The wide network of engaged volunteers and staff creates vibrant channels of communication. OASFCU strikes a balance between the imperatives of control and collaboration in the power relationships between its nested governing bodies: the board, management team, member (volunteer) committees, and general members meetings.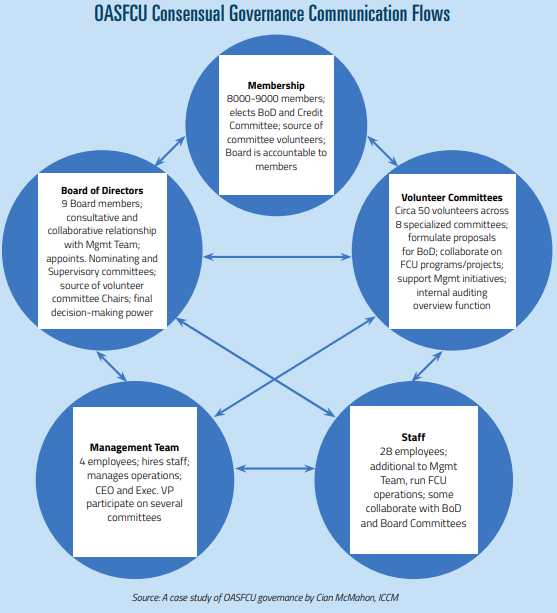 Looking to the future
Following its 2018 merger with the National Geographic Society's Federal Credit Union, Calderon reveals that OASFCU now plans on "developing and restructuring the organization" over the next five to ten years. This will involve "an institution-wide assessment to find the pitfalls and what needs we have… [taking into account] feelings from staff, volunteers and members." To date, there has also been a strong Latin American focus within the organization, as regards the "structure, culture and language." Soares suspects that this may partly explain the relatively high levels of member and stakeholder engagement within the organization. With a well educated staff, there are greater capacities to engage in organizational decision-making.
"Now that we're growing… we have to be more inclusive of the majority of the population… The culture here is very cosy, but once you bring [in] other groups you have to be careful and you have to ensure that everybody feels welcome… So that could also be part of our governance, and how do we manage that—not only in our day-to-day operations serving our members, [but also] board meetings and committees [etc.]."
Calderon also feels that the organization needs to encourage more volunteers from other SEGs besides "our main sponsor the OAS"—particularly National Geographic, "which is huge, and other groups that are not here in the [United] States." He continues: "We [have] got to find some way to [include] representation on these committees… One idea may be that we do want to have a certain percentage of… non-OAS volunteers on each committee, and go out of our way to do that."
Adapting in the face of challenge
OASFCU now confronts an uncertain and rapidly changing economic, social, political and ecological environment, particularly with the advent of the COVID-19 global pandemic and the ensuing social and economic crisis. The organization has grown from strength to strength during its lifespan and has had to reconfigure its governance system in response to similar (if perhaps not on the same scale) challenges in the past. Once again, it will rely on the collective intelligence of its members and stakeholders to steer the ship and navigate stormy seas.