Spring/Summer 2020
Coming Home
The path to financial inclusion for returning citizens
By Capital Impact Partners
Despite feeling out of place, he was excited to get on the bus and start his new life. He was heading to Washington, DC to his mother's house in the Bloomingdale neighborhood where he grew up. "I was amped up. I had so much passion and fire," Juan said. He dreamt of reforming the criminal justice system and helping at-risk youth. "I was going to make it my business to talk to everyone I encountered who's heading down this path—to give them another choice."
Juan's drive to change the world, however, was quickly replaced by the need to simply survive. His presence at home made utility bills and food expenses higher. He struggled to find a job due to his criminal record. "The pressure of reality kicked in soon, and I fell into my default: survival mode," he said. He started selling drugs to make money and then using drugs to mask how disappointed he felt in himself. Ashamed, he eventually told his mother that he was moving in with a friend, but instead he lived in a van on the streets.
Juan is one of the more than 5,000 District of Columbia residents who return to their communities from incarceration each year. Nationwide, nearly 700,000 people are released from prison annually, and about 70 million Americans—one in three adults—have an arrest or conviction record.
The consequences of a criminal offense follow returning citizens—individuals reentering society after incarceration or who have a criminal record— long after they have completed their sentences. Many leave prison with large gaps in employment, overwhelming child support debt, and strained family ties. Depending on the nature of their crime, access to government programs like public housing (or even the ability to live with a family member in public housing) is frequently denied.
Facing overwhelming barriers
Most importantly, having a criminal record makes earning a dignified living and creating financial stability incredibly difficult. A criminal record often locks returning citizens out of employment opportunities or occupational licenses needed for certain jobs. For returning citizens with low levels of educational attainment and literacy, the field of available jobs narrows even further.
"There are more than 40,000 barriers to reentry that are documented by the American Bar Association," said Ron Kelly, Director of Impact Strategy at Capital Impact Partners. "There are few pathways for individuals with criminal records to earn a living and contribute to their communities, and that often leads to recidivism." These barriers span nearly every aspect of American life, from eligibility for federal assistance programs and voting to access to banking services and life insurance.
Teresa Hodge knows these barriers all too well. After serving nearly six years in federal prison for a white-collar conviction, she was excited to start her life as a businesswoman again and move forward. But she experienced culture shock during the transition to a halfway house and as she tried to re-launch her career. "We've made coming home entirely too hard," Teresa said. Although she found work fairly quickly through a friend, she had to hide her incarceration from some co-workers and felt overwhelmed by new technology in the workplace.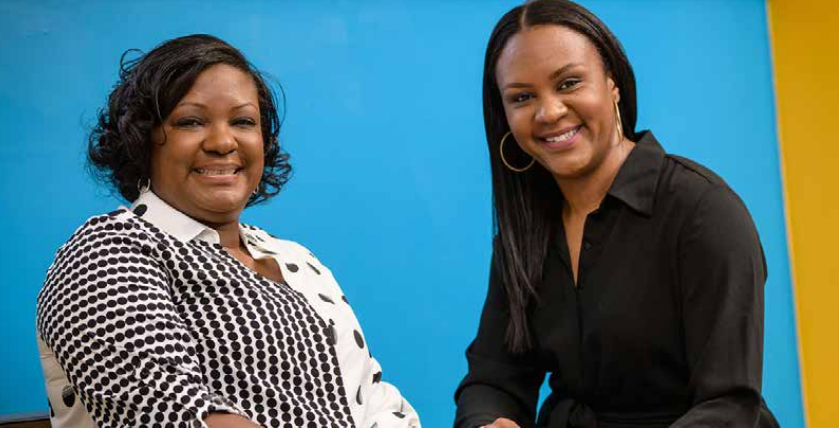 Teresa's daughter Laurin Leonard, in college at the time of Teresa's incarceration, was deeply impacted by her mother's journey. She started thinking about ways that they could improve the plight of returning citizens as they try to rebuild their lives. In 2012, the mother-daughter team founded Mission: Launch, a Baltimore-based nonprofit focused on accelerating self-sufficiency and improving social outcomes for individuals with criminal records. "We need people who are coming home from prison to have their human capital restored so that they can be good mothers and fathers, good community members, and take care of their families," Teresa said.
Creating pathways to success
Teresa and Laurin use their first-hand experience with the criminal justice system to guide their work at Mission: Launch every day. "We're committed to expanding a dialogue around creating more opportunities for people so that when they come home they can earn an income more quickly," said Laurin, President and Executive Director. "Financial institutions play a big part in that, because once you're earning, the question of where you store your money, access to financial literacy that's relevant, access to checking and savings accounts—the fundamental mainstream banking opportunities that aren't predatory—is very important."
Mission: Launch is actively working to educate returning citizens about their finances and connect them to Community Development Financial Institutions (CDFIs) that offer small business loans. They will reopen Launchpad, part business accelerator and part financial literacy program, later this year. This 90-day course helps returning citizens understand personal finance, navigate the reentry process, and develop business plans. "In listening to the CDFIs that make small business loans, they said they would like to be more intentional about providing more small business loans to entrepreneurs with criminal records but identified several barriers. Launchpad is the program that those CDFIs have asked for," Laurin said. Launchpad helps returning citizens develop a personal financial resiliency plan by, for example, planning how they will pay back child support debt or how they will earn money within the restrictions of their probation terms. The program also helps returning citizens articulate how they will repay business loans.
Even more transformational from Mission: Launch is R3 Score, an alternative background check and credit score. R3 Score takes into account multiple factors in a person's life to assess loan risk, giving financial institutions a more accurate picture. "R3 Score is an example of something that could be a huge game changer," said Ron of Capital Impact. Laurin believes that the combination of Launchpad and R3 Score will encourage financial institutions to support returning citizens who want to start their own businesses.
Harold Pettigrew, Jr., Executive Director of the Washington Area Community Investment Fund (Wacif), is another person leading this charge in the Washington, DC region. For Harold, this topic is a personal one. His father was incarcerated, and Harold saw him struggle with his inability to find a job and the impact that had on his health. "In my professional lens now, I see a lot of things in my father's story that were barriers to him getting back to life," he said. "They really stacked up."
Harold understands that while entrepreneurship is not the only pathway for returning citizens to gain employment, it is sometimes the best option for building personal wealth. "If you're a returning citizen, you're often locked out of the only other way that you can make income to support yourself and your family, which is working for someone. You either work for someone or you work for yourself," he said. "[Entrepreneurship] is hard; it has its uncertainties. But there is stability in that you have much greater control of your destiny."
While Wacif provides small business loans, it is not a bank. Harold sees his organization as one piece of the overall financial system and believes traditional banks have a large role to play in supporting returning citizens as well. "When you think about some of the financial supports that you need so that you can be a productive financial citizen, bankability is critical. There are so many infrastructure pieces that are based in the financial system that there's an opportunity for banks to make a difference," he said. "If we're not creating pathways for folks to be productive in society, which is either reducing barriers for them to work for someone or reducing barriers for them to work for themselves, we're going to have a problem."
Another organization creating these pathways to success is the Latino Economic Development Center (LEDC), which has offices throughout the Washington, DC region to help clients achieve financial stability. While LEDC does not specifically focus on working with returning citizens, many of its services—personal and business loans, oneon-one financial coaching, and free workshops— can provide opportunities for economic mobility for returning citizens.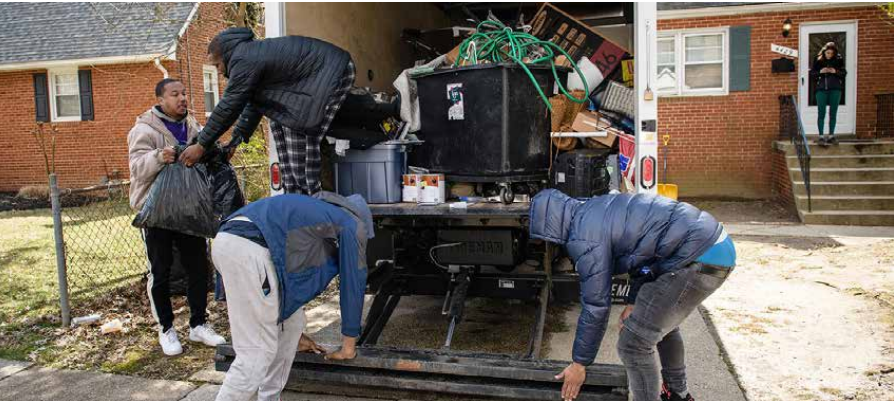 LEDC offers personal loans that help clients build credit history. For a $10 fee, clients can get a $500 or $1,000 loan for 12 months. "We check the credit report after six months and after one year. Usually our clients jump from not having anything to having a decent credit score," said Bibiana Stevens, a small business coach at LEDC. Having a credit history is a step toward entrepreneurship for returning citizens who have been unable to find other work. Bibiana helps her clients estimate the costs of licensing and initial inventory, learn how to use traditional banks and credit unions, and build a business plan.
"Before applying for a traditional business loan, it is really important to get those technical assistance services at CDFIs like ours—knowing what documents you need to bring, knowing you already have a business plan, knowing your personal finances, knowing what types of questions they are going to ask," Bibiana said. "We want all clients to have access to traditional banks, but for some of them starting with us may be a better solution. And then after that, they can apply for a business loan in another place." She sees this symbiotic relationship between CDFIs and banks as an opportunity for more local partnerships.
"A lot of CDFIs like us provide a service whether you were incarcerated or not," she said, noting that more awareness of these kinds of opportunities is needed. "There are organizations that care, and they will help."
Opening doors through entrepreneurship
Still living in a van, Juan eventually landed a food service job where he quickly stood out as a hardworking cook who kept a clean kitchen. But when the owner of the business visited and heard about Juan's criminal record, he was fired. He posted pictures on Facebook wearing a vest and a hard hat, pretending he had a job to impress his family. On his 34th birthday, he was alone and depressed in his van, parked across from a homeless shelter. His mom called to tell him how proud she was of him. "I just broke down," he said. "I thought, I really can make my mom proud of me. It doesn't have to be a front." That day, he started answering Craigslist posts seeking help with odd jobs like moving and landscaping.
Soon after, he had a chance encounter that would change his life. He met Allison Basile, who was working for Cooperation DC at the time, and started telling her his story. She invited him to join her at some cooperative events and talked to him about what co-ops are and how they work. Co-ops enable workers to own a piece of a business, allowing each worker-owner to have equal say in how the business is run. The two decided to turn the odd jobs Juan had been doing into a business, and they co-founded Tightshift Laboring Cooperative in 2016. It is one of a handful of worker-owned cooperatives in the Washington, DC area.
Tightshift offers moving, cleaning and landscaping services and now has 11 member apprentices, all of whom are on a path to co-ownership. Many of the member apprentices are returning citizens, and they also mentor and train at-risk youth. "We have the same business licenses as a regular business. But the management is us, the ownership is us, and the governance is us. Even when someone first joins as a member apprentice, they get to weigh in on business decisions," Juan said. They founded Tightshift with an initial $3,500 grant from the Diverse City Fund and have continued to raise money through grants and a GoFundMe page.
As Tightshift has grown, Juan and Allison recognized that in order to help the business and its workers succeed, they also needed to focus on housing and healing. They rented a house in University Park, Maryland and open it to anyone who needs some time to get on their feet. They have added yoga and meditation to their routine to help team members deal with the trauma from their pasts. They envision this healing component becoming an important part of their mission moving forward. "Imagine a halfway house where people get trained, they get healed, and when they leave, they own a business. You're setting these people up for success," Juan said.
Supporting returning citizens through financial institutions In 2016, Mission: Launch and Capital Impact began talking about the barriers that returning citizens face, specifically barriers to financial security and economic mobility.
As a CDFI, Capital Impact helps people build communities of opportunity that break barriers to success by championing social and economic justice for underserved communities. "We know that the places where most of our lending takes place—often low-income communities and communities of color— align with neighborhoods where incarceration has a disproportionate impact," Ron said. "We wanted to have informed conversations about what we as a lender could do to more directly benefit our community members, outside of our lending practices."
After looking at the many innovative initiatives that organizations engage in to support returning citizens, Capital Impact and Mission: Launch decided to convene people from banks, CDFIs, community organizations, government and nonprofits to brainstorm how financial institutions can make their services more accessible to returning citizens.
Representatives of these organizations—alongside returning citizens—in the Baltimore-Washington region all recognized that with so many Americans having an arrest or conviction record, there was a business case for making sure that this population is better served. "The changes that need to take place to create positive impact for such a large part of the population will take time, but the need and opportunity are immense," Ron said. "Our hope was to get the ball rolling and have the participants go back to their offices and think about what it would mean for them to better support returning citizens. We also wanted them to think about ways in which they could make what could be very minor changes to some of their product offerings to really transform their circumstances.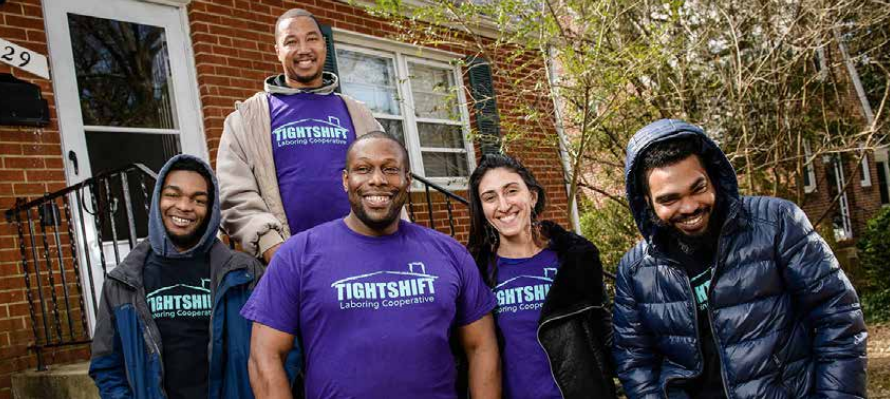 Shifting the stigma
Local governments also have a role to play in helping returning citizens re-integrate into their communities. In Washington, DC, the Mayor's Office on Returning Citizen Affairs aims to ease reentry by providing computer classes and connecting returning citizens with social services and employment training. It also works to de-stigmatize returning citizens by educating employers, landlords and the general public about the challenges that they face.
In 2014, the District of Columbia passed the Fair Criminal Record Screening Act, which prohibits employers from asking about arrest or criminal records during the initial hiring process. According to the National Employment Law Project, this law resulted in a 33 percent increase in the number of job applicants with records who were hired.
Even if returning citizens find employment, continuing to earn higher wages and grow in their jobs can be challenging, as can understanding how to use traditional financial institutions to secure their earnings. Although Juan has had to open a bank account as Tightshift has grown, he is still wary of traditional financial institutions. Many returning citizens are used to relying on predatory lending services, simply because that is what is available in their communities. "If you overlay on a map a Venn diagram of where poverty and incarceration happen, it's poorer areas that have higher rates of incarceration. And if you also overlay on that map where bank or credit union branch locations are, typically they aren't in those neighborhoods," Ron said.
Traditional financial institutions could broaden their customer base by expanding their outreach to these communities, specifically by holding financial literacy events, increasing no-fee or no-minimum-balance account options, offering credit cards and loans with low interest rates or more flexible repayment terms, and opening more branch locations in lowincome areas. "Transforming the financial landscape for returning citizens is a process," Ron said. "Our convening report lays out initial steps toward this goal. Capital Impact and Mission: Launch continue to engage with interested organizations on this subject and welcome new strategic ideas that will get individuals with criminal records closer to economic sovereignty."
An issue this big demands multipronged strategies and partnerships across the nonprofit and business sectors. "In criminal justice, oftentimes, we want to find the panacea, the magic bullet, the one thing that's going to work for 70 to 80 million people," Laurin said. "But there is no one thing, because everyone's reentry journey is unique to them. There's the need for diverse opportunities and the need for listening to people's stories."
By listening to more stories like Juan's, assumptions about returning citizens within the financial community may start to shift. "Coming from where I'm from, I believe anything's possible," Juan said. "And when enough people believe, it is going to happen."
Through capital and commitment Capital Impact Partners helps people build communities of opportunity that break barriers to success. A nonprofit Community Development Financial Institution (CDFI), Capital Impact has a 35-year history delivering strategic financing, social innovation programs, and capacity building that creates social change and delivers financial impact nationwide.