Fall 2022/Winter 2023 – Doorway to Dreams – Unlocking Opportunity Through Co-Ops
Trending Seeds
An Indigenous Corn Cooperative Honors Land and Legacy
By Lea Zeise
Not too long ago, cooperative agriculture was the primary method of food production on the continents now known as the Americas. Our oral histories tell us so. We carry these teachings in our blood as the Haudenosaunee ("People of the Longhouse"), a confederacy of six Tribal Nations who belong to the lands that are now called New York State. One of our central responsibilities as Haudenosaunee is taking care of the three sisters: corn, beans and squash. Another central tenet is representative government. Historically, our Council of Chiefs, chosen by Clan Mothers, made decisions based on consensus.
Much has changed since our way of life was upended by centuries of genocide and war, but we sheltered our most precious teachings and seeds and still tend them today. Our people are more scattered than ever, but we still gather to enjoy a steamy bowl of corn soup and share stories. This story comes from the Oneida Nation displaced to what is now the state of Wisconsin, nestled near Green Bay.
Our ancestors made the arduous journey here by steamboat from the St. Lawrence River, arriving in the middle of a very hard winter in 1838. They had a difficult choice to make: eat the corn seeds they tucked away in their belongings, or save them to plant in the spring. We are forever grateful for their foresight in saving the seeds, and we honor their memory by planting those seeds to this day. The steamboat sank on its return voyage, and that journey would only be the beginning of hardships in our new homeland. Our lands would be stripped away and divided into individual parcels not too much later. Our children, too, would be stripped away, sent to boarding schools meant to kill the Indian inside them. Times would be difficult for more than a century, but our ancestors kept planting the seeds.
It may not surprise you, then, to learn that with little land and little knowledge passed to the next generations, the seeds and teachings became scarce. So scarce that when 10 Oneida families decided to make a go of growing together in 2016, we didn't have enough seeds among us to plant even the three acres of reservation land that had been leased to us. We reached out across the Confederacy and our Central Fire, Onondaga Nation, offering to trade seeds for wild rice. This is how our cooperative got started—with the memory of an agricultural legacy stretching back millennia and relationships that have endured the test of time. Though our teachings have been shattered, each of us carries a shard and when we work together, we are made whole.
Among the cornstalks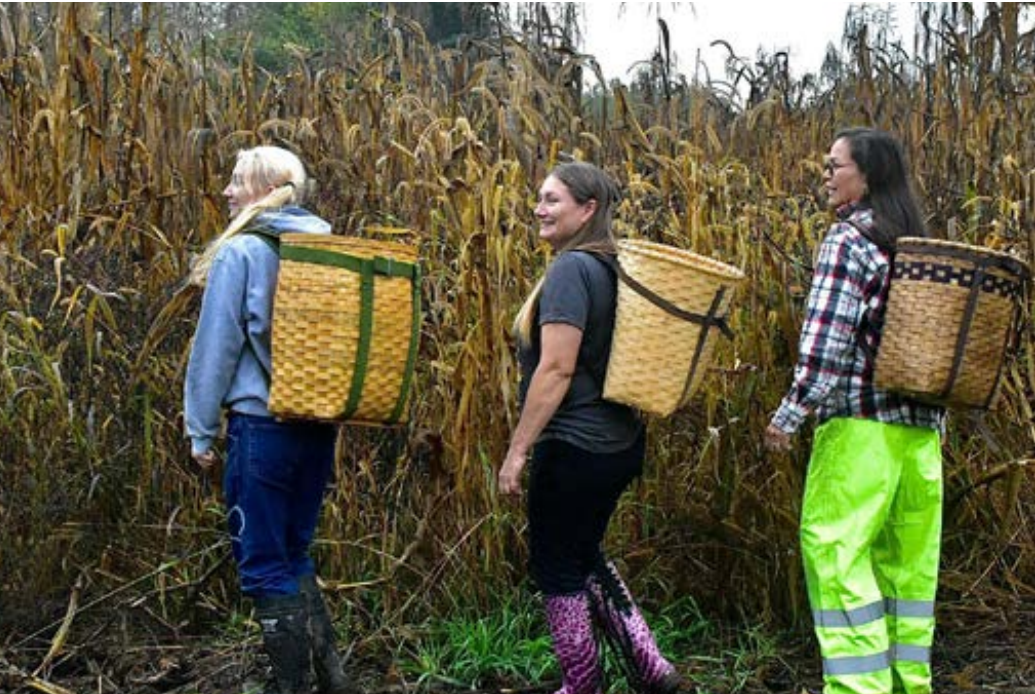 So it was that we formed Ohe·láku (Oh-hey-LAH-goo, "Among the Cornstalks"), an organization we would come to identify as a nonprofit grassroots cooperative. At that time, most of us had small backyard gardens where we grew our ancestral seeds, Tuscarora White Corn, which struggled against poor soil quality and pests. Our first year was a practice in growing together again like our ancestors did. We had to decolonize our thinking about land, seeds and food. At first, we thought we would divide up a three-acre parcel into individual family lots and grow apart, together. Before we planted, it occurred to us that our ancestors never grew that way. They grew together, planting one row for each clan until the seeds were all in the ground.
That first year, the corn taught us many things. We learned that working together is the ideal way to grow corn because of the bonds we formed working side-by-side to plant, weed and harvest the corn. And our harvest immediately surpassed what our backyard plots could produce—we picked 1,520 pounds that first year. Working together also gave us a unique opportunity to engage with the Oneida Land Commission to secure a five-year no-cost lease on nine acres of fallow reservation land. Sharing our vision with the Oneida Land Commission motivated them to develop new land access policies for Oneida cooperatives who are interested in farming Tribal lands and growing traditional foods. We think of this as our first achievement because we opened the door for other cooperatives to request land. We also learned that while we may have planted seeds, what we were growing was farmers equipped with ancestral knowledge and children with a deeply rooted sense of place.
We named ourselves Ohe·láku and created committees to divide up the many hours of volunteer labor we were investing. We also decided to create a method of tracking those hours so the corn could be divided equitably. Our committees were made up of "Back Achers," who handled heavy equipment and prepared the fields; "Taking Care of Business" went to work raising funds and organizing meetings; "Tech" took on our social media presence; and "Culture & Language" gathered and integrated cultural teachings into our meetings, protocols and gatherings.
We decided to plant together again in 2017, but this time we asked each family involved to adopt a couple corn rows to weed. This would resolve the anxiety of facing three acres of corn and weeds with nothing but a hoe and a sunhat. The new method of weeding and dividing tasks led to a 2017 harvest of 5,850 pounds. That may not seem like a lot until you consider that we pick all our corn by hand. Our seeds are open pollinated and express themselves in beautifully unique ways, so a corn picker or combine doesn't suit them. More importantly, we pride ourselves on being mindful as we pick each cob by hand, sitting in a circle to pull back the husks and admire the gleaming creamy white kernels arranged in eight rows. Then we braid the husks together to form one long braid of 50 or 60 cobs.
To accomplish this enormous labor of love, we welcome the help of anyone and everyone to pick our corn with us. Every year, 200 or more visitors answer our call. We have middle schoolers, college students, nonprofits and corn growing collectives join us at harvest time. One of our members even got married in the cornfield, inviting all their guests to pick and husk corn together. By the end of October, hundreds of braids hang in our barn over winter to dry down as we settle into renewing our commitments for the following year.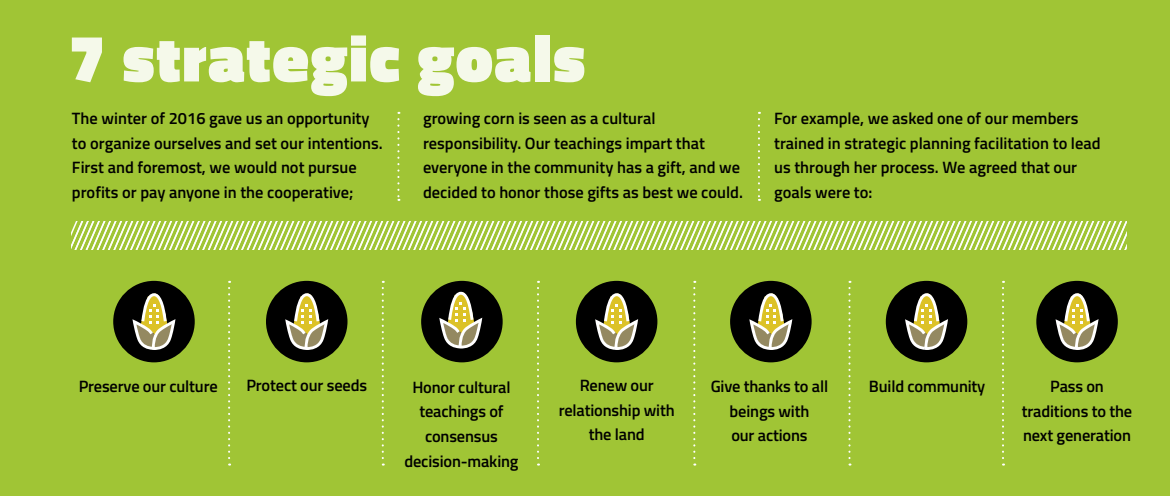 Wintering
Renewing our commitments over the winter allows families to consider how much effort they want to dedicate to the following season. We set the minimum threshold for each member family at 50 hours of cornrelated work each year. The down time of winter also enables us to reflect on the season and chart out any changes we want to make, like developing protocols for our new member process, called "Under the Wing." It works like this: before the season starts, existing members nominate candidates for consideration. As a group, we decide whether to welcome the nominee into the program. Nominating members then serve as a mentor to their respective "Winger." After a full year of apprenticeship, we consider how the Winger harmonizes with Ohe·láku and then decide whether to offer them full membership. Some Wingers choose to stay on as Wingers or Allies, preferring to drop in to help as needed and avoid the commitment of full membership. So far, five families have joined as full members.
Winter also gives us time to modify our self-governance protocols to align more closely with our traditional teachings, following the ancestral wisdom of the Council of Chiefs who governed the Haudenosaunee Confederacy. It was their representative government that inspired the Founding Fathers of the United States as they developed a democratic republic. The cooperative model, with some tweaking, harmonizes with these cultural protocols. We don't "vote," but we do utilize consensus decision-making and cultural approaches to conflict resolution. We are also developing a system of raising issues and considering them based on our clan responsibilities. Each year, we integrate new teachings into our monthly meetings and protocols that seems to come to us when we are ready by way of an elder or relative.
Honoring our land
We are also following in our ancestor's footsteps out in the field. Early European explorers believed they had arrived in Eden thanks to Indigenous land management practices, after all. Haudenosaunee villages, known for their longhouses and miles of corn fields, would rotate through the territory every couple of decades, returning to the same place 100 years later to give the land and animals time to regenerate. Today, our reservation limits our land base, but we can rotate our fields, and this is how we honor that teaching. We plant cover crops during rest years to rebuild the soil's microbial life and organic matter. Our success has opened the door to more land, and we now steward 30 acres via leases from Oneida Nation. We even dedicate one of our fields to experimenting with no-till and intercropping practices in partnership with University of Wisconsin Extension to sequester carbon into the soil.
Pulling back the husks, together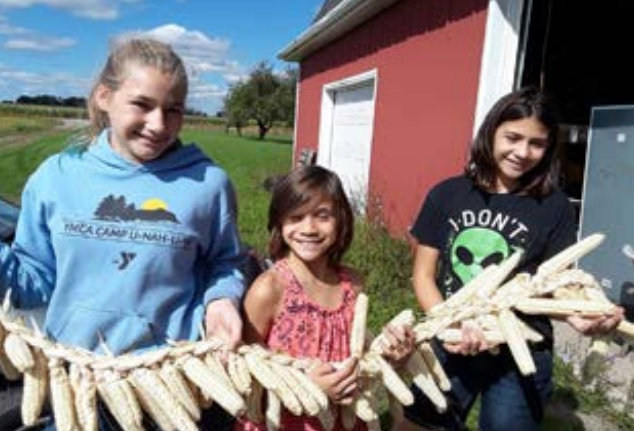 As we prepare to harvest the 2022 season, we look back on all we have accomplished as volunteers cooperating on just a few acres. Our cumulative harvest totals 27,000 pounds—an abundance that has met the needs of each family in Ohe·láku and beyond. In addition to dividing the harvest equitably according to how many hours each family worked, we donate corn to our community by setting aside one share of corn to be processed and delivered to families who are grieving the loss of a loved one, so they don't need to search for traditional foods for their mourning ceremonies. The abundance has also allowed us to donate thousands of pounds of corn to the Oneida Pantry during the pandemic. We are proud to have enough to share, all thanks to working together.
Our commitment to staying a nonprofit hasn't hindered our wealth; in fact, we're now rich in cultural foods to feed our families because we have value-added corn products to trade with other Tribal producers for wild rice, maple syrup, fish, venison and other traditional foods. The corn has shown us how to revive the trade routes that bustled with activity prior to colonization. This process has changed our thinking beyond the cash valuation of our sacred foods and given many producers more value for their goods than cash would have. Traditional foods are grossly undervalued, considering the number of hours and ancestral wisdom involved in preparing them. A barter economy allows us to exchange goods with respect and honor.
Only in 2022 did we decide to enter the cash economy, and under very specific circumstances. Our neighbors at the Menominee Nation partnered with Feeding America to develop the Tribal Elder Food Box Program to deliver Native-made traditional foods to Tribal elders across the state of Wisconsin. If ever there were a cash opportunity for us to embrace, this was it. We signed up to provide 6,000 half-pound bags of roasted corn mush flour in 2022. No one will profit from the sale; instead, funds will help us repair our equipment, purchase organic fertilizer, and support the operating costs of our commercial kitchen that will be up and running next year. We remain committed to never selling our seeds, our relatives.
Our story is just one among many that illustrates the vitality of cooperative principles that have thrived on this continent for centuries. These concepts—democratic governance and empowerment, wealth development, equity and inclusion—are woven into the history of the land and people of this place. That legacy lives on in our actions, stories and teachings. We have much to learn from one another, if only we take the time to sit in a circle and pull back the husks together.
Lea Zeise is a member of Ohe·láku, an Indigenous corn cooperative on the Oneida Reservation where she grew up. Lea has worked to support Tribal agriculture throughout her career and currently serves as the Assistant Director of the Office of Environmental Resource Management at United South and Eastern Tribes, Inc., a nonprofit dedicated to advancing the sovereignty of Tribal Nations.