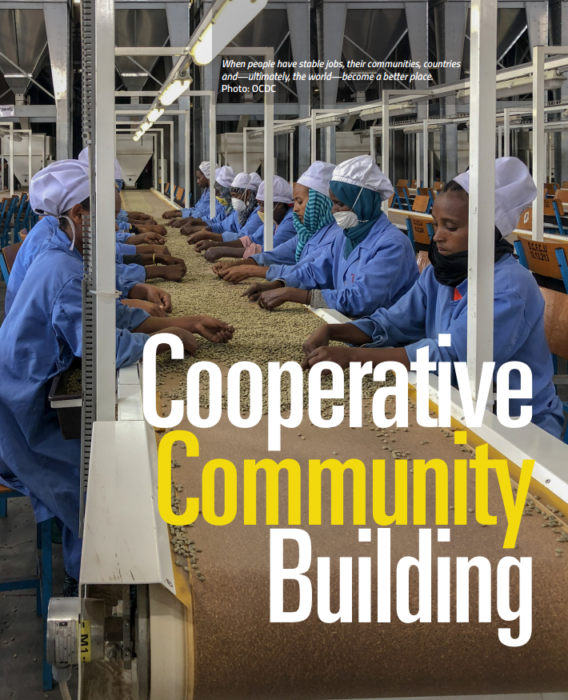 Spring 2019 – Room to Grow
Cooperative Community Building
A global legacy of self-reliance and stability
By Paul Hazen
Forty-two percent of the world's poor rely on livestock for their livelihoods. Market access is a crucial link for improving incomes among agricultural smallholders, like Teger Gadi from Rwanda. For years, he's been a member of CMO Dairy Cooperative, one of six dairy co-ops in his area. But there was no collaboration between the co-ops and no milk collection centers, driving each co-op to find its own markets and resulting in lower prices for smallholders.
"People are shifting from personal farming to professional farming." — Teger Gadi, chair, dairy co-op union
Through a program funded by the Cooperative Development Program (CDP) and managed by Land O' Lakes Venture 37 (formerly Land O'Lakes International Development), the six co-ops came together to create a dairy cooperative union called Uprocenya. This partnership has led to improved quality control, market access, leadership and financial management, and better dairy-cow genetics.
Each improvement along the value chain has generated more success for Uprocenya and more income for its dairy farmer members. In turn, that success has brought about an economic turn toward self-reliance for many families in the region. Teger, who now chairs Uprocenya, puts it best: "People are shifting from personal farming to professional farming."
Teger's and Uprocenya's experience demonstrates how CDP acts as a catalyst for sustainable cooperative development, transforming the lives of co-op members worldwide by bringing stability to their livelihoods.