Spring 2019 – Room to Grow
Perspectives
Cultivating Cooperatives Through Policy Change
NCBA CLUSA cultivates cooperatives. In this issue of the Cooperative Business Journal, we focus on the critical role policy plays in this work. Growing up on a farm outside of Dubuque, Iowa, I am familiar with what it takes to cultivate a successful crop. First, you need the natural resources of sun, rain and fertile soil. With the right management decisions, seeds, crop nutrition and equipment, a farmer can make the most of these resources to increase yields and build even more fertile soil for future generations. To enable farmers, we have implemented policy that provides technical assistance, supports research, improves access to capital, and builds infrastructure to move crops to market.
For co-ops, people need to understand their economic and societal assets, and then use the cooperative principles alongside sound business decisions to build thriving cooperatives. To reach their full potential, coops need a policy environment that enables people to use the cooperative business model to serve their members and communities. At NCBA CLUSA, we work hard to create this enabling policy environment.
With 65,000 cooperative establishments and a total membership of more than 115 million people, co-ops are already a powerful part of the U.S. economy. We know that co-ops contribute to the creation of healthy, sustainable and equitable communities; yet policies at the national, state and local level sometimes hinder their growth.
This year, NCBA CLUSA is partnering with the Cooperative Development Foundation to host a series of Regional Cooperative Policy Roundtables designed to identify policies that enable people to use cooperatives to build thriving businesses and communities. This work will culminate at the 2019 Co-op IMPACT Conference in October where we will present actionable ways to achieve an enabling policy environment that gives cooperative room to grow.
In this issue of the Journal, many of the enabling environments we explore are legislative. We explain why the landmark passage of the Main Street Employee Ownership Act was only a first step toward making worker ownership a reality for an entire generation of people. We spotlight the USAID-funded Cooperative Development Program's global legacy of self-reliance and stability. And we make the case that the Rural Cooperative Development Grant (RCDG) program deserves increased funding—especially as a wave of interest in worker ownership provides new opportunities for aging communities across America. We also learn how broadband connectivity can be the ultimate enabling environment.
Providing an enabling environment for stable and sustainable cooperative growth is one of the most effective ways to ensure that people are truly included in their economy. As principled, purpose-driven businesses, cooperatives continue to be the best way to ensure a better, more inclusive economy for generations to come. NCBA CLUSA is proud to lead the critical work in cultivating policies that grow cooperatives.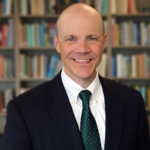 In Cooperation,
Doug O'Brien
President & CEO of NCBA CLUSA