Winter 2020
Due North
Navigating the challenges of remote living through cooperation
By Margaret Lund, with NCBA CLUSA
When the single grocery store in Yukon Territory's most remote northern community closed, residents decided to take ownership of their food supply.
Even before it left town in 2014, their store didn't participate in Canada's Nutrition North program, which makes perishable, nutritious foods more affordable and accessible to remote communities by subsidizing the high cost of shipping and stocking items so far north. "We had no say in what they would sell. We needed bread, eggs and milk, but a plane-ful of pop, candy, and chips would be coming in," said Paul Josie, a resident of Old Crow.
Meanwhile, the grocery chain was making its third-largest profits off the community—to the tune of $1.8 million, said Tracy Rispin, General Manager of Old Crow Co-op. "To see that, and not see it [reflected] in the community, I didn't like it," she said.
In their search for an alternative, community leadership discovered Arctic Co-operatives Limited, a cooperative federation owned and controlled by 32 independent multi-purpose cooperative stores located in Nunavut, Northwest Territories and Yukon, Canada. Collectively, its members represent more than 20,000 households in Arctic Canada.
Launched in 2015, the grocery co-op in Old Crow leverages its buying power together with other grocery co-ops across northern Canada to get the best prices on the freshest produce, said Old Crow Co-op Board President Jason Van Fleet. "Our vegetables have never been greener."
Like many other communities in the Yukon Territory, Old Crow still relies on the land for foods like fish and caribou, but the co-op is a way to help supplement that traditional way of life and provide another layer of food security. Community members enjoy a wider selection of groceries, including fresh produce. And foods subsidized by Nutrition North are clearly labeled so members can take advantage of the savings.
"We saw a need in the community and wanted to affect people the most, and it was through the coop," Van Fleet said.
A legacy of working together 
Arctic Cooperatives traces its roots to the late 1950s, when changes in government health and education services began arriving in the Arctic, and people who had primarily been living a nomadic lifestyle began to settle in villages where such services were offered.
Its original purpose was to act as a collaborative agent to market authentic Inuit art and artisanal products. Fur harvesting and fisheries were also early cooperative ventures. A network of autonomous and independent grocery and general merchandise stores was launched in 1972 and, in 1981, the networks merged to form Arctic Co-operatives.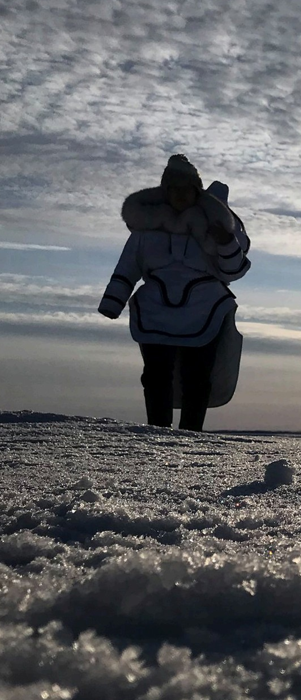 Inuit arts are still part of the Arctic Co-operatives business, but now represent only a small share of volume. Other services include grocery, general merchandise, fuel, cable TV and hospitality services.
Serving rural communities 
Access to basic food and supplies is an obvious driver for Arctic Co-operatives, whose 32 members service very remote communities, some with as few as 100 year-around residents, and half of which After the government, Arctic Co-operatives is the major employer of Inuit people in the North of Canada, making it a primary engine of economic growth for these remote communities. Photo: Arctic Co-operatives 34 | THE COOPERATIVE BUSINESS JOURNAL lie above the Arctic Circle. Business sustainability for each cooperative is greatly enhanced by their federated structure.
Co-op members gain technical expertise from their association with Arctic Co-operatives and, in addition, receive annual dividends based on purchases (from Arctic Co-operatives itself and, by extension, the larger purchasing cooperative of which it is a member, Federated Cooperatives, Ltd). This supplementary source of income acts as a vital stabilizing force and source of support for some of the network's smallest stores.
As noted above, Arctic Co-operatives stores stock more than grocery items, typically offering a wide range of general merchandise goods—from apparel and furniture to snow removal machines. Some also operate unrelated businesses including fuel, cable television or, in their newest venture, hospitality services. This wide range of enterprises is, of course, a plus in the community because these goods would otherwise not likely be offered locally.
Such enterprise diversification is also a contributor to the stability and economic success of each store. It is important to remember that many Arctic Co-operatives stores operate in very thin markets and on very thin margins. Specialization, while it may seem reasonable from the outside, can carry a high degree of risk for these stores. Operating several enterprises simultaneously, each serving different groups of people with different needs— and, importantly, doing so with the backing of industry expertise from the central co-op association—can make the difference between success and failure.
The federation model 
Arctic Co-operatives provides a number of vital centralized functions that enable their member stores to succeed while concentrating local energy on those issues that most benefit from local input.
In addition to group purchasing, Arctic Co-operatives provides central bookkeeping for all stores; completes tax returns; offers specialized legal help as needed; provides full HR functions including recruitment, payroll and benefits; and assists local stores in identifying and applying for relevant federal grant resources and in writing 3- to 5-year business plans.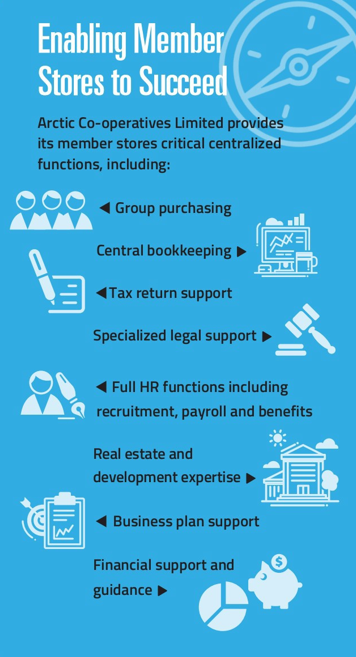 The central body also provides real estate and development expertise as needed for members stores, and has funded its own development arm that offers regular financing for a store's large annual inventory purchases, as well as interim funding for a real estate purchase until a local bank loan can be arranged
An engine of economic growth
In addition to the resources provided to indigenous communities through the range of cooperative products and services, Arctic Co-operatives member stores are also a significant source of jobs, and therefore of financial security and advancement for workers. After the government, Arctic Co-operatives Limited is the major employer of Inuit people in the North of Canada, making it a primary engine of economic growth for these remote communities.
The members of Arctic Co-operatives are structured as consumer cooperatives. As such, each member store is a source of democratic empowerment for local residents and communities. Consumer co-op boards make their own decisions regarding which business lines to take on, and what products to offer their members. As a large and successful cooperative, run by and for the indigenous people of Canada, Arctic Cooperatives is an impressive example of the direct role that cooperatives can play in being a vehicle for equity, racial justice and inclusion.
As representative members of this federation of community-owned consumer cooperatives, the board membership of Arctic Co-operatives is made up of indigenous peoples from across the region, proven leaders in the local context who bring with them a variety of life and professional experiences. This direct link to the local community is reflected in the services offered by each member co-op, which reflect the sense of civic engagement that members bring to their store.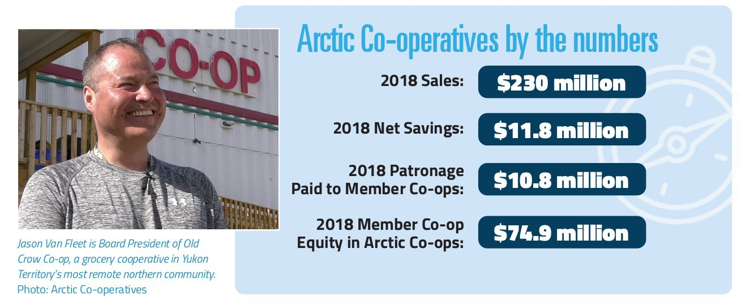 Arctic Co-operatives offers financial literacy training for local members, for example, and the stores often act by necessity as a local financial services provider if there is no local bank or credit union in a community. These are the kinds of services that stem from people who are in daily acquaintance with the needs of their neighbors.
Arctic Co-operatives also provides board training for all new co-op members and, in this way, helps to build important local leadership in each community. It is estimated that the co-op has trained over 2,000 people in their role as directors.
Particularly in the early years of the co-op in the 1960s and 70s when the government and the Canadian cooperative movement were intensively involved in training, many of the recipients later went on to important roles as elected representatives in the House of Commons and, ultimately, the legislature of the new territory of Nunavut.
Most recently, Arctic Co-operatives has made a long-term investment in the airline business, partnering with Chrono Aviation of Quebec. Since 1972, the co-op has provided air transportation services to the Arctic, always by choosing the air carrier best positioned to meet the needs of the community. Communities like Old Crow are only accessible by air, making partnerships like this a critical conduit for supplies.
"Serving remote Arctic communities, we understand the importance of safe and reliable air transportation," Artctic Co-operatives President Kono Tattuinee said in a February press release. "We are proud of what our co-ops have built together. Now, the economic benefits of commercial activity in southern Canada will benefit our co-op members in the north."
Margaret Lund is an independent consultant specializing in the areas of economic development financing and shared ownership strategies. Prior to launching her consulting firm in 2008, Margaret spent 16 years as executive director of a Community Development Financial Institution (CDFI).