Summer 2019 – Staying Power
Perspectives
Cooperatives are doubling down on sustainability
Regardless of their size or market share, businesses increasingly find that embracing sustainable practices leads to more reliable products and services, better connection to the community, and improved economic and social outcomes. While this may be a revelation to some, these practices have long been utilized by cooperatives for nearly 175 years. As values-based and principled businesses, cooperatives are by their very nature the most sustainable form of business. Their practices focus on keeping jobs local, reducing their environmental impact, and investing in the communities in which they operate.
Many co-ops are being recognized for work that emphasizes community engagement and environmental stewardship. Recently, NCBA CLUSA member Organic Valley became the largest food company in the world to source all its energy from renewables, fulfilling a pledge made it made in 2017 as part of efforts to build a sustainable food system in the U.S.1 CoBank, a financial cooperative member, is one of the largest underwriters of renewable energy in the country, with more than $3.8 billion in outstanding loans and leases for renewable energy projects.2 National Co+op Grocers (NCG), another member, offsets emissions through its Co+op Forest in Peru, planting 4,700 native trees and protecting 1.7 million trees on nearly 7,000 acres. The Roanoke Electric Cooperative promotes energy saving investments for its members by establishing programs that incorporate "smart systems" into their homes and providing access to more affordable on-bill financing for essential renovations.
With a focus on financial sustainability, credit unions provide programs that focus on the long-term financial health of their members, building a financial future that works for everyone in their communities. Worker cooperatives are gaining much-deserved attention for being a potential strategy to provide a sustainable future for the more than 24 million employees that are part of the 2 million small businesses owned by a retiring generation of baby boomers.3
Through these and many more examples, cooperatives are redefining the role of businesses in society through direct community engagement, care for the environment, and a focus on their members' long-term needs.
In this issue of the Cooperative Business Journal, we read about "The Science of Cooperation," which touches on the social side of sustainability by revealing new insights from psychology, economics and anthropology into the mechanics of cooperation. We dig deeper into sustainability in our next three articles. From farmer cooperatives, we learn that sustainability isn't just a mandate—it encompasses economic viability, environmental stewardship and community well-being. In "Cruise Control," we hear what decades of credit union research reveals about the right speed for sustainable growth. And in our final article, we get a first-hand look at how Puerto Rico's financial cooperatives sustained the island's economy in the aftermath of Hurricane Maria.
People established cooperatives out of a collective need. They have a proven record of going to scale and weathering crises. Their members know they can be trusted to bolster their communities and provide opportunities when other businesses cannot or will not. With more and more people looking for stability and sustainability in the places they work, the businesses they use and the communities in which they live, cooperatives are the clear choice to ensure an inclusive economy that works for everyone.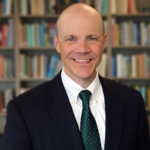 In Cooperation,
Doug O'Brien
President & CEO of NCBA CLUSA